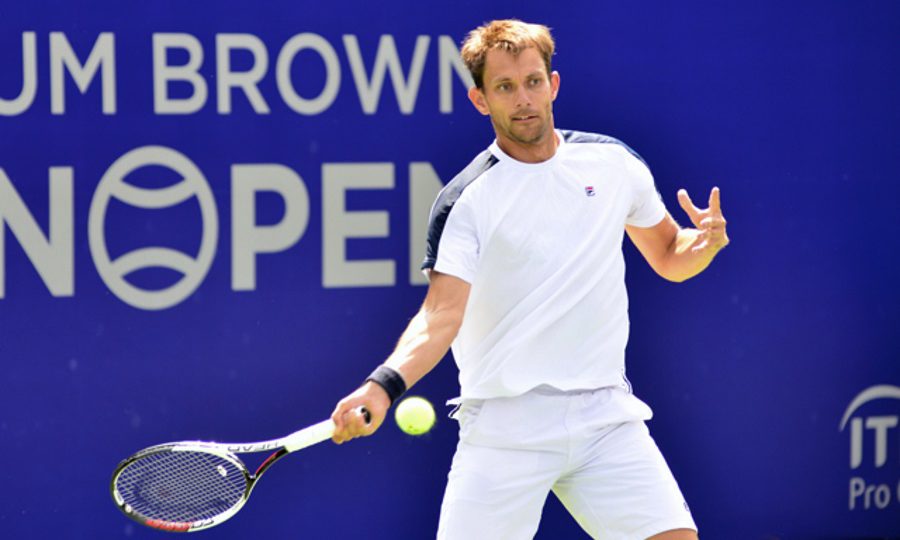 2012 Wimbledon Doubles Champion Frederik Nielsen Advances to Second Round of Qualifying at Odlum Brown VanOpen
News Aug 12, 2017
(Photo credit: Bo Mon Kwan)
2015 Junior Australian Open Doubles Champion Marc Polmans Wins Opening Match
2012 Wimbledon Doubles champion Frederik Nielsen was among the winners on day one of the 2017 Odlum Brown VanOpen as the tournament returned to the Hollyburn Country Club after a one year hiatus.
Nielsen, who has a career high doubles ranking of World No. 17, topped American and fourth seed Austin Krajicek 6-2, 6-3. Krajicek himself is a former champion at the Odlum Brown VanOpen, having claimed the men's doubles title in 2014.
"Today was a really great match for me, I wish I could say that I play like that every day, but unfortunately I don't, so I'm just really happy that I was able to play such a good match from start to finish," said Nielsen, who won the men's doubles title with Treat Huey at the 2015 Odlum Brown VanOpen. "I executed great, made all the right decisions, had a good percentage of first serves, came up with three points on my serve when I had to, it was perfect."
Six of the eight seeded players advanced to the second round, including top seed Marc Polmans of Australia. Polmans, who won the doubles crown at the 2015 Junior Australian Open, knocked off Vancouver's Alexander Day 6-4, 4-6, 6-0. The only two seeded players to be upset were Krajicek and No. 2 Brydan Klein of Great Britain, who fell 6-4, 6-3 to American Thai-Son Kwiatkowski.
Full results and draws are available here.
Matches continue on Sunday, August 13 at 9 am, including Men's and Women's Singles Qualifying. Tickets to the Odlum Brown VanOpen are on sale now, starting as low as $20. Admission is free on Sunday, August 13.