Event Overview
The Odlum Brown VanOpen, a Tennis Canada Event, is the largest and most celebrated Men's and Women's professional tennis tournament in Western Canada and the Pacific Northwest. In 2022 the tournament returns bigger than ever after a two year hiatus due to the Covid-19 pandemic with an upgrade to a combined ATP Challenger Tour 125 and WTA 125 event.
The tournament will showcase approximately 135 professional tennis stars from all over the world. This event has a combined purse of over $274,360 USD, with $159,360 USD awarded to the men (ATP Challenger Tour) and $115,000 awarded to the women (WTA Tour).
The venue for the Odlum Brown VanOpen is the spectacular Hollyburn Country Club, set against the dramatic back drop of the North Shore Mountains in West Vancouver, BC.Milos Raonic, Maria Sharapova, Andy Murray, Leylah Fernandez, Johanna Konta, Kevin Anderson, Eugenie Bouchard, Vasek Pospisil, Marion Bartoli, Felix Auger-Aliassime, Bianca Andreescu, Taylor Fritz, Naomi Osaka and Karolina Pliskova are among the top stars who began their careers at the Odlum Brown VanOpen.

Odlum Brown VanOpen
2022 Event Program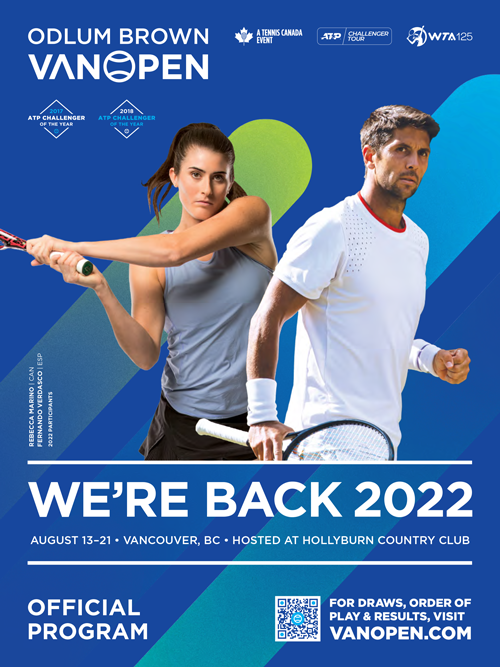 Download the Official Program for 2022
Sections: The Tournament, Player Profiles, Raffle, Schedule, Community Day info, and more.
Download PDF - 5.3mb
Odlum Brown VanOpen
2022 Summary Report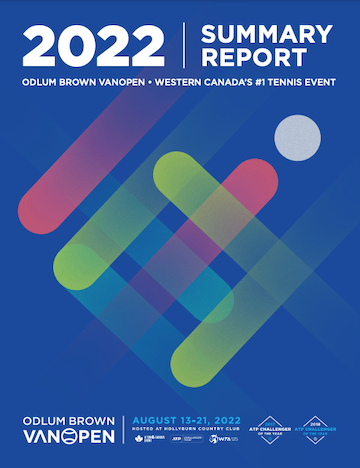 Download the Official Summary Report for 2022
Sections: Tournament Facts, Community Involvement, Marketing & Communications Campaign, Advertising, Media Relations, Media Coverage, Digital Coverage, and more.
Download PDF - 5mb
Tribute to our Founders
The Odlum Brown VanOpen would like to thank tournament founders Floyd Hill and former Tournament Director, Ryan Clark, for their many years of service and dedication to this great tournament.
As Tournament Chair and Underwriter, Floyd Hill's tireless support and work on behalf of the Odlum Brown VanOpen helped put tennis on the map in Vancouver and made the tournament one of the best tennis events in Canada and the Pacific Northwest. The high standards they set also helped the Odlum Brown VanOpen earn the respect and participation of players, officials and media throughout the tennis world.
On behalf of everyone at the Odlum Brown VanOpen, we thank Floyd and Ryan for all their efforts. Under the current leadership of Tournament Chair, Carlota Lee, and Tournament Director, Rik De Voest, we look forward to building on the tremendous foundation they established.
Venue
Hollyburn Country Club

Hollyburn Country Club is one of North America's premier tennis, fitness and social clubs. Situated mountainside, overlooking downtown Vancouver, the Country Club sits on 42 acres of West Vancouver's renowned British Properties. Over the past 5 years Hollyburn has completed over $20 million dollars of improvements, making this country club's facilities unrivalled and award winning.
Hollyburn Country Club is located at 950 Cross Creek Road, West Vancouver, British Columbia. Only 20 minutes from Vancouver's downtown core.
For more information go to www.aclubforlife.com
THE TEAM
The 2022 Odlum Brown VanOpen has an experienced team dedicated to producing a high-quality tennis tournament, which will bring added value to our partners and create lasting memories for fans through new initiatives and interactions on-site. The team will also ensure that the players feel prioritized and cared for in every way.
Carlota Lee / Tournament Chair
Rik de Voest / Tournament Director
Austin Nunn / Assistant Tournament Director
Jessica Walker / Partnerships & Operations Director
Kathryn Cowden / General Manager, Hollyburn Country Club
Brian Wiebe / Media Manager
Chrystale Thompson / Event Creative Director, Ecstatic
Supporting Tennis in BC and Canada
The Odlum Brown VanOpen is committed to supporting the development of professional tennis in BC. With the support of local associations and partners, we are devoted to producing a best-in-class tennis tournament for players and fans for years to come.
"The Odlum Brown VanOpen is an important event to our city and to the Canadian tennis community. We are very proud of our long-standing relationship with this high-calibre tournament, and are excited to return as Title Partner."   
Debra Doucette/ President and CEO, Odlum Brown Limited
"Tennis BC enthusiastically supports this high quality professional tournament in Vancouver. Tennis BC supports all levels of developmental play, throughout the province and adding an event of this magnitude gives our fans and players the opportunity to experience world-class play in our own backyard. This event will further enhance the rapid growth of our sport in BC and in particular provide inspiration to our junior players to achieve their best on a world stage."
Mark Roberts / CEO Tennis BC
"Having a world class professional tennis event in Vancouver brings on an enormous contribution to the City and to the Province of BC. Besides the huge and unique stage for young Canadian Professionals to compete and experience the highest levels of the game on home soil, such an event has a much wider and invaluable Regional impact. It plants the seeds of a culture of excellence and sports entertainment for so many sport lovers, families, tennis fans, next generation junior players and younger children in the community. This type of event places the city of Vancouver on the world map of the professional tennis tour and the world's leading sporting events."
Oded Jacob / National Junior Training Program (BC) Head National Coach