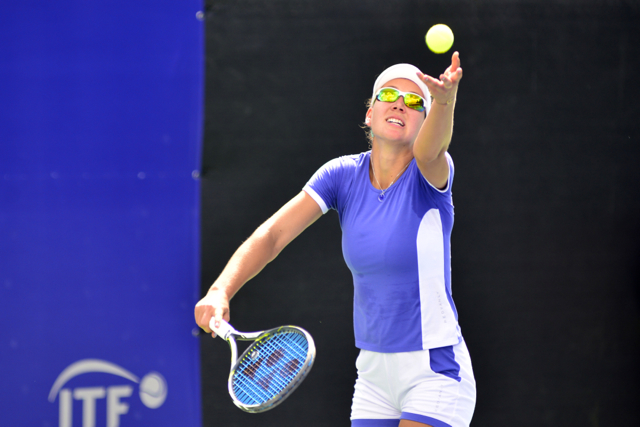 2017 Wimbledon Mixed Doubles Quarterfinalist Nicole Melichar Advances to Second Round of Qualifying at Odlum Brown VanOpen
News Aug 14, 2017
Max Purcell Upsets Top Qualifying Seed to Move Into Main Draw at Odlum Brown VanOpen
West Vancouver, BC – The men's singles qualifying round wrapped up on Sunday at the Odlum Brown VanOpen with three seeds and one unseeded player advancing to the men's main draw of the 15th edition of the tournament at the Hollyburn Country Club.
Fifth seed Max Purcell of Australia upset compatriot and top seed Marc Polmans 6-3, 6-2. The 19-year-old from Sydney was coming off a three set win over Canadian wild card George Jecminek.
"It was better today than it was yesterday, that's for sure. Today playing another Australian, I really wanted to win so I put a little more effort in and I played well," Purcell said, adding that the rain delay which caused play to be postponed by more than two hours benefited him. "I actually liked it, it gave me a bit more time to eat and relax. I got to watch the final of the Rogers Cup, which is nice."
Other winners on the men's side to advance to the main draw include third seed Lloyd Harris of South Africa, sixth seed Takanyi Garanganga of Zimbabwe, and American Thai-Son Kwiatkowski, who ousted eighth seed and countryman JC Aragone with a two hour, three set battle.
The first round of women's singles qualifying got underway with twelve matches on tap, including four Canadians in action. All four were unsuccessful in moving forward, including Charlotte Robillard-Millette of Blaineville, Quebec, who fell 3-6, 6-3, 7-5 to Nicole Melichar of the United States.
"It was a great match, she's a great player, we both played well at times, both played a bit shaky at times, and I'm happy I was able to pull it through," said Melichar, who made it to the quarterfinals in mixed doubles at Wimbledon last month and is ranked World No. 51 in doubles. "I haven't played singles since before the French Open, so it's nice to get my first win under my belt. I'm happy with the way I'm playing in doubles and I'm going to try to use the last matches I won in doubles as a positive for my singles."
Other notables who won in women's qualifying on day two of the tournament include Japanese fifth seed Miyu Kato, sixth seed Silvia Soler-Espinosa of Spain, and seventh seed and American Usue Maitane Arconada. The top four seeds received a bye in the second round of qualifying while Olivia Rogowska of Australia was the lone seeded player to fall as she lost 6-3, 6-2 to fellow Aussie Priscilla Hon.
Matches continue on Monday, August 14 at 9 am, including Men's Singles and Doubles Main Draw First Round and Women's Singles Second Round Qualifying. Tickets to the Odlum Brown VanOpen are on sale now, starting as low as $25.
(Photo credit: Bo Mon Kwan)