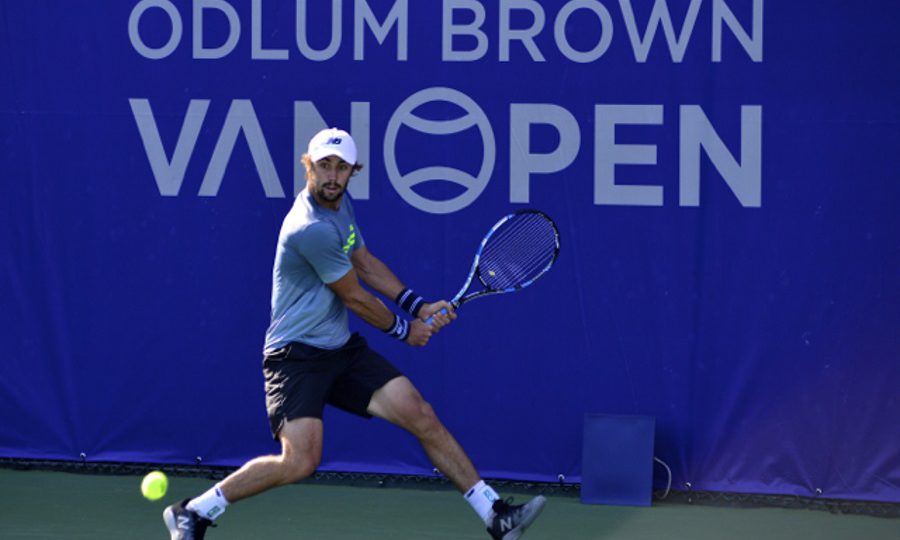 Aussie Jordan Thompson into Men's Singles Final at Odlum Brown VanOpen
Twice this summer, Jordan Thompson has advanced to the finals of an ATP Challenger event, and twice he's come up short in his bid for victory. The 23-year-old from Australia has an opportunity to change his fortunes on Sunday at the Odlum Brown VanOpen as he plays in the 2017 men's championship final.
Thompson, who's ranked World No. 79, upended Stefano Napolitano of Italy 6-0, 6-1 in the semifinals and will play Germany's Cedrik-Marcel Stebe.  "I played great, it's not every day you play a semifinal and win 6-0, 6-1. The game I lost I was a little broken, so getting the win is definitely positive," said Thompson.
World No. 128 Stebe topped Belgian Joris De Loore in the other semifinal 6-2, 6-4 to reach his ninth career ATP Challenger Tour final. Sunday's match is the first ever between Stebe and Thompson. The Aussie admits he doesn't know a lot about his upcoming opponent.
"I haven't seen too much of him, but I know he's a very technical player. He beat Lleyton Hewitt in Davis Cup one year, so he's definitely a quality player," Thompson said.
—–
Carol Zhao's run at the Odlum Brown VanOpen came to an end on Saturday as she fell 6-3, 7-6(3) to Danka Kovinic of Montenegro in one of two women's singles semifinals at the Hollyburn Country Club. Kovinic hit eleven aces to just three for Zhao and won 83.3 percent of points on first serve in the victory.
"In the beginning of the second set, I felt that my focus was down. I had to push it more, she started playing really good and serving better. I think my serve was amazing in the second set with a lot of aces, and I feel like I'm playing better and better with every match," said Kovinic.
The semifinal result is the best for Zhao since the Richmond Hill, Ontario native also made it to the semifinals of a $25,000 event in Alabama earlier this summer. She is the first Canadian to play in the semis at the Odlum Brown VanOpen since Sharon Fichman in 2013.
"It was a tough match today again, even in the first set it was very close. Especially with the whole stadium supporting Carol, it was a good fight from both sides and I'm really happy I'm into the final," said Kovinic, who is currently ranked 262 spots ahead of Zhao at World No. 122.
The 22-year-old faces Maryna Zanevska of Belgium in Sunday's final. Zanevska knocked out Jana Fett of Croatia 6-2, 4-6, 6-2 in the other semifinal. The Odlum Brown VanOpen championship final is the fourth career meeting between Kovinic and Zanevska, with the Montenegrin holding a 2-1 advantage. It is their first meeting since 2014.
—–
In men's doubles, Treat Huey looks to repeat as champion at the Odlum Brown VanOpen after winning the title in 2015. Interestingly enough, Huey faced his partner from that year – Fredrik Nielsen of Denmark – in Saturday's semifinal. Huey and Swede Robert Lindstedt knocked out Nielsen and Andreas Siljestrom of Sweden 7-6(0), 7-6(7).
A win on Sunday would be Huey's fourth career men's doubles title at the Odlum Brown VanOpen. He and Lindstedt face American James Cerretani and Great Britain's Neal Skupski in a battle of the top two seeded teams in the men's doubles main draw.
Matches continue on Sunday, August 20 at 12 pm, including Men's and Women's Singles Finals along with the Men's Doubles Final. Tickets to the Odlum Brown VanOpen are on sale now, starting as low as $58.
Photo credit: Bo Mon Kwan