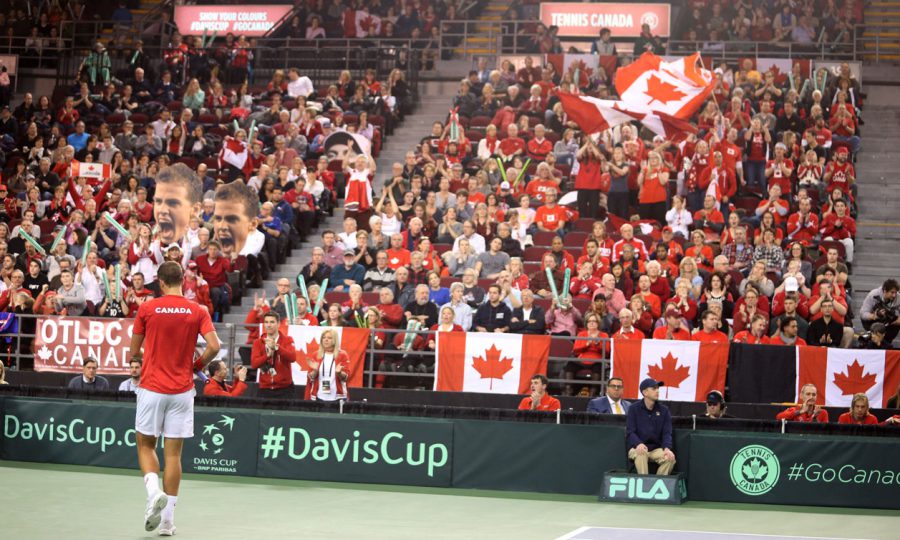 Canada to host India in Davis Cup by BNP Paribas World Group play-offs
News Apr 11, 2017
Team Canada will play at home in its quest to stay in the top level of Davis Cup by BNP Paribas as the official draw held at the International Tennis Federation headquarters on Tuesday morning determined Canada will host India in the World Group play-offs. Taking place September 15-17, 2017, the venue, court surface, and player nominations will be announced at a later date.
"We are very happy we will be playing at home again as our Canadian fans have been so supportive in every city we've been to and this will give us the best chance to win," said Canadian team captain Martin Laurendeau. "We know India has been in this position before and will be up to the challenge, but our team will be ready. We definitely feel we are a World Group nation and belong there once again for 2018."
This will be the third consecutive home tie for Canada, who will be the seeded team with a ranking of No. 16. Most recently, the Canadian squad fell to Great Britain 3-2 in the first round held in front of a record Canadian crowd at TD Place in Ottawa in February. Canada now must win in September to remain in the World Group for another season, a place it has competed every year since 2012. Its best results since becoming a steady World Group nation have been the semifinals in 2013 and quarter-finals in 2015.
Ranked No. 18 in Davis Cup, India defeated Uzbekistan 4-1 in the Asia/Oceania Group I semifinals last weekend to earn the right to compete in the World Group play-offs. This will be the fourth year in a row the Indian team fights for the right to make World Group, though the nation has only competed in the top level of play twice since 2000 – in 2010 and 2011.
This will be the first time Canada and India face off in Davis Cup play. Because the two countries have no history, hosting privileges were determined by a draw which was won by Canada. The host city and venue as well as court surface will be announced at a later date.
Davis Cup by BNP Paribas is the largest annual international team competition in sport, with 134 nations participating in 2017. The prestigious Davis Cup trophy has been handed out since 1900. Only the Top 16 nations qualify for the World Group each year, and thus the right to compete for the Davis Cup title.
Source Tennis Canada