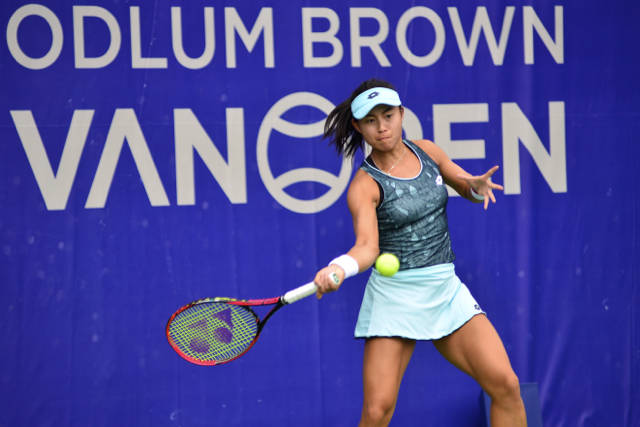 Canada's Carol Zhao Continues to Roll at Odlum Brown VanOpen
Aussie Jordan Thompson Takes out Brayden Schnur of Toronto in Men's Quarterfinals
The match certainly didn't end the way that Carol Zhao wanted it to, but she's glad to get the result nonetheless. Zhao became the first Canadian woman in four years to advance to the semifinals of the Odlum Brown VanOpen after her opponent Ons Jabeur retired due to illness during the second set on Friday night at the Hollyburn Country Club.
"I wish Ons all the best, we're good friends and it's never nice to see your opponent down like that, but I'm really happy with the way I played and really stayed focused even during the interruptions and whatnot," said the 22-year-old from Richmond Hill, Ontario.
The last Canadian woman to make it past the Odlum Brown quarterfinals was Sharon Fichman in 2013. Fichman made it to the finals that year and ultimately fell to current World No. 7 Johanna Konta. The win sends Zhao to a semifinal match-up on Saturday against eighth seed Danka Kovinic. It's the first ever meeting between the two.
Already twice this week, Zhao has had to battle back from down in the first set, including a second round match-up on Thursday that saw her lose the first set 6-0.
"I didn't want a repeat of yesterday's first set, that's for sure. I set that as one of my goals for today and it was a good mental exercise," she explained. "I'm feeling good this week, I've gotten through some tough matches in the previous couple of rounds, so that gave me a lot of confidence on the mental side, hopefully tomorrow will be another good day."
Join Zhao and Kovinic in the semifinals are Jana Fett of Croatia and Maryna Zanevska of Belgium. Fett upset No. 2 seed Nao Hibino of Japan 4-6, 6-1, 6-3 while Zanevska took out Aussie qualifier Priscilla Hon 6-4, 6-4.
—–
For three straight seasons from 2014 to 2016, Aussie Jordan Thompson has improved his year-end ATP ranking. A win at the 2017 Odlum Brown VanOpen would certainly add to Thompson's ranking points and he's one step closer after advancing to the semifinals with a 6-4, 4-6, 6-1 win over Canadian wild card Brayden Schnur on Friday afternoon at the Hollyburn Country Club.
"It was really tough, Brayden's been playing great tennis – he's got a big game, big serve, big forehand, his backhand is solid too. He's had some pretty good results lately, maybe a little luck went in my favour (today)," said Thompson
With a year that's seen him knock off World No. 1 Andy Murray (last month at the Aegon Championships at Queen's) and finish as the runner-up at two ATP Challenger events this summer, it's likely that 23-year-old Thompson's ranking will continue to climb.
"That win is the highlight of my career so far. I was a Lucky Loser, I shouldn't have even been in the tournament and to be playing Andy Murray at Queen's in the first round, I wasn't expecting to play that day let alone win. I'll definitely remember that forever," he explained.
Thompson's opponent in the semis is 22-year-old Stefano Napolitano of Italy, who dispatched qualifier Lloyd Harris of South Africa 4-6, 6-3, 6-3 on Friday. The other men's semifinal sees German Cedrik-Marcel Stebe take on Joris De Loore of Belgium.
—–
In women's doubles, Jessica Moore of Australia and Jocelyn Rae of Great Britain advanced to the women's doubles final with a 6-7(8), 6-4 (10-8) win over top seeds Eri Hozumi and Miyu Kato of Japan. Moore and Rae face the duo of American Desirae Krawczyck and Mexico's Giuliana Olmos. Krawczyck and Olmos booked their spot in the final with a 7-5, 7-6(1) victory against Emina Bektas of the United States and Alexa Guarachi Mathison of Chile.
Matches continue on Saturday, August 19 at 11 am, including Men's and Women's Singles Semifinals along with Men's Doubles Semifinals and Women's Doubles Final. Tickets to the Odlum Brown VanOpen are on sale now, starting as low as $52.
Photo credit: Bo Mon Kwan