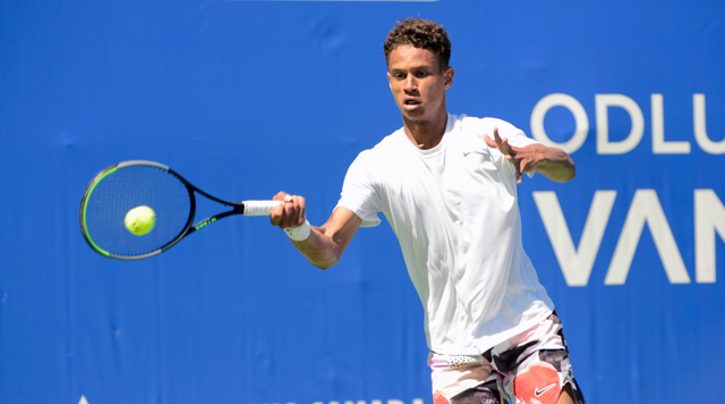 Canada's Gabriel Diallo moves to the second round at the 2022 Odlum Brown VanOpen
News Aug 16, 2022
Gabriel Diallo of Montreal is the first Canadian men's player to advance to the second round of the Odlum Brown VanOpen after he knocked off Belgian Zizou Bergs 4-6, 6-2, 7-6(5) on Monday at the combined ATP Challenger Tour and WTA 125 event. It was the first-ever meeting between the 553-ranked Diallo and Bergs, who's ranked World No. 154.
"I am super happy to get the win. Obviously, it wasn't easy, he was serving for (the match) at 6-5 and I had a match point at 5-4," explained the 20-year-old Diallo, who stands at 6-foot-7. "I'm happy that I managed to stay composed throughout the match, even though in the first set it wasn't going my way and he was playing much better. I just managed the match well and I'm really happy about that."
Diallo's had a solid string of play in his home country after beating World No. 62 James Duckworth in the first round of qualifying before retiring in the second set of his second round qualifying match against World No. 76 Hugo Gaston at his hometown National Bank Open last week.
The experience of playing – and winning – matches over higher-ranked players at events like the Odlum Brown VanOpen will serve Diallo well as he enters his senior year at the University of Kentucky this fall.
"I'm in these tournaments to just try and become a better player and take as much experience as I can. I'm still in college, so (that's) my priority right now. Those guys are really good and it's good for my confidence, hopefully I can take it back with me to college for my last year," he added.
During the 2021-22 NCAA season, Diallo appeared in every college tennis singles ranking, peaking at No. 4, and finishing the year at No. 8. He is currently the eighth-best ranked men's player in Canada.
Looking to join Diallo in the second round is Vancouver's Vasek Pospisil, who plays his first match at the Odlum Brown VanOpen against Felipe Meligeni Alves of Brazil in Tuesday's evening feature match.
Prior to Pospisil taking the court, wild card Eugenie Bouchard of Montreal plays her first singles match in 17 months against Dutch player Arianne Hartono in the first round of the women's singles main draw. The day closes out with No. 6 seed Rebecca Marino of Vancouver returning to the courts at Hollyburn Country Club for her opening round match against American Emma Navarro.
 Tuesday's matches at the Odlum Brown VanOpen start at 10 am, featuring the continuation of the first round of men's and women's singles as well as the first round of men's and women's doubles.
Photo credit: Bo Mon Kwan