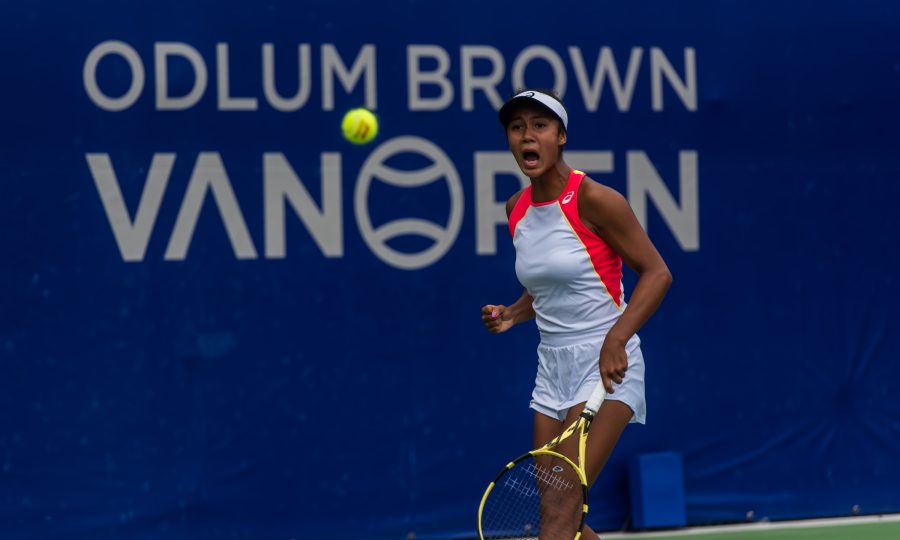 Canada's Leylah Annie Fernandez Into the Semifinals of 2019 Odlum Brown VanOpen
A summer to remember continued for Leylah Annie Fernandez on Friday at the Odlum Brown VanOpen as the Canadian teenager dispatched Nao Hibino of Japan 6-3, 6-4 to advance to the women's singles semifinals at the $100,000 USD ITF World Tennis Tour tournament.
"It feels good, I'm excited for tomorrow. Today wasn't an easy match but I feel like I played well and was able to fight through the difficulty. Hopefully I'm able to transition that to tomorrow because it won't be an easy match either," said Fernandez, who is the 2019 Junior French Open Champion, the first Canadian to ever hold the title.
It's the third time in the last two months that the 16-year-old has made it to a semifinal at an ITF tournament in singles. In July, the Laval, Quebec product was a finalist at the $80K Granby Challenger and won the $25K Gatineau Challenger.
Fernandez expected the fight she got from Hibino, a player she knocked off in Granby last month. "I knew that no balls were going to be easy and that she wasn't going to give me the match. No match is over until one wins two sets and six games so I was just trying to stay calm and fight through it."
Fernandez faces Heather Watson in one of Saturday's semifinals as she looks to become the first Canadian to make it to the Odlum Brown VanOpen women's final since Sharon Fichman did six years ago. "Heather is a great player, she's also a fighter and aggressive. It's not going to be an easy match, so I'll just have to prepare and hope that everything goes well."
Watson made it to the semis with a 6-3, 6-2 win over Maddison Inglis of Australia. Joining her and Fernandez are 3rd seeded Spaniard Sara Sorribes Tormo and Timea Babos of Hungary.
On the men's side, top seed Lithuanian Ricardas Berankis, who's ranked World No. 76, and 10th seed Jason Jung of Taiwan moved on, along with Go Soeda of Japan and France's Maxime Janvier.
The action on Saturday, August 17 starts at 11 am, featuring the Men's and Women's Singles Semifinals and Men's and Women's Doubles Finals.
Photo credit: Bo Mon Kwan