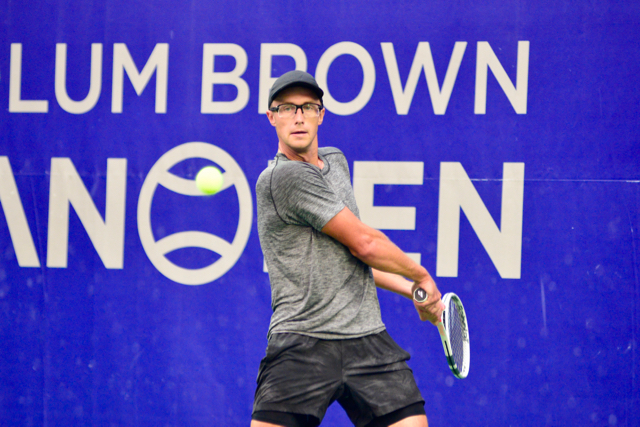 Canadian Peter Polansky Advances to the Second Round at the Odlum Brown VanOpen
After having to withdraw from the tournament last year due to injury, Peter Polansky of Toronto was in good form on Monday as he won his opening round match against Santiago Giraldo of Colombia 7-6(5), 5-7, 6-3 at the Odlum Brown VanOpen. Polansky is currently ranked World No. 123 after being ranked as high as No. 110 last month.
Polansky's compatriot Brayden Schnur wasn't as fortunate, falling 7-5, 7-6(2) to unseeded Yannick Maden of Belgium, who advanced to the second round of the Men's Main Draw Singles. Other winners on Monday include Aussie Jason Kubler, Belarusian Ilya Ivashka, and Quentin Halys and Gregoire Barrere of France.
The final round of women's qualifying is set, with eight players due to battle for a spot in the main draw. Among Monday's winners were Canadian qualifying wild card Carson Branstine and 2017 Odlum Brown VanOpen women's singles champion Maryna Zanevska.
Matches continue Tuesday, August 14 at 10 am, featuring Men's First Round Singles, and Women's First Round Singles and Doubles. Our 2018 Opening Ceremonies and Wheelchair Tennis Demonstration with guest speaker Rick Hansen is on Centre Court at 6:15 pm. Tickets are available at https://vanopen.com/tickets.
Photo credit: Bo Mon Kwan