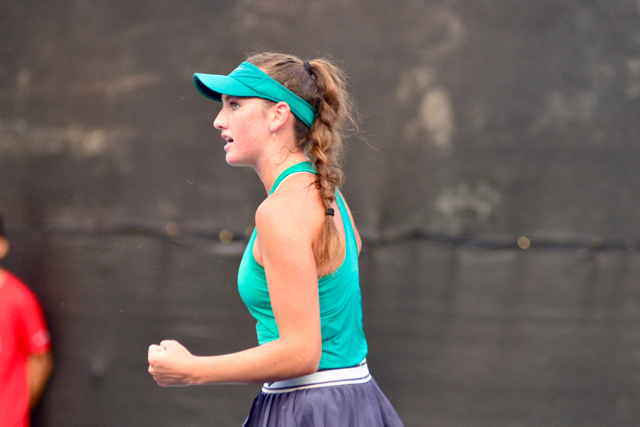 Carson Branstine Lone Canadian Remaining in Women's Singles Qualifying Draw at Odlum Brown Vanopen
Canadian wild card entrant Carson Branstine took down American Anastasia Nefedova in three tight sets, 6-4, 3-6, 6-2, on Centre Court to advance to the second round of Women's Qualifying on Day Two at the Odlum Brown VanOpen.
In other women's first round qualifying action, six of the seven seeded players advanced, including 2017 Odlum Brown VanOpen Women's champion Maryna Zanevska of Belgium defeating Great Britain's Katy Dunne 6-2, 6-0, and Israel's Julia Glushko edging Canadian wildcard entrant Alexandra Mikhailuk 7-6(6), 7-5.
JC Aragone of the United States, who is the top men's seed in qualifying, advanced with a 6-4, 7-6 victory over Venezuela's Ricardo Rodriguez-Pace, while the No. 2 seed Kaichi Uchida was upset by Croatia's Borna Gojo 7-6, 3-6, 7-6. American Thai-Son Kwiatkowski pulled off an upset of his own in a 6-2, 6-0 win over sixth-seed Alexander Ward of Great Britain. The final two Canadians in the men's qualifying draw were ousted, as American Tommy Paul topped Burnaby, BC's Luka Vukovic 6-3, 6-3, and Vincent Millot of France downed Calgary's Joshua Peck 6-3, 6-1.
Matches continue Monday, August 13 at 10 am, featuring Men's First Round Singles and Doubles, and Women's Second Round Qualifying Singles. Tickets are available at https://vanopen.com/tickets.
Photo credit: Bo Mon Kwan