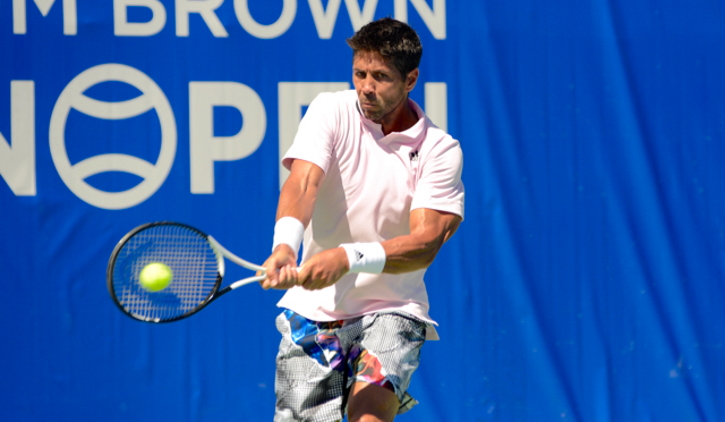 Former World No. 7 Fernando Verdasco punches ticket to quarterfinal round at the 2022 Odlum Brown VanOpen
News Aug 19, 2022
Spain's Fernando Verdasco is into the quarterfinals at the 2022 Odlum Brown VanOpen after he outlasted Canadian wild card Alexis Galarneau on Centre Court at the ATP Challenger Tour 125 event on Thursday. Verdasco, who is tied for second all-time in main draw Grand Slam appearances with 70, stormed back after dropping the first set 6-2 to win the second and third by 6-4 and 6-2 scores, respectively. 
"It was not easy at the beginning of the match, he was very motivated. I think I was lucky enough to serve pretty well, especially in the second and third set, closing both with an ace just touching a bit of the line – that's actually the perfect serve," explained the 38-year-old Verdasco, a former World No. 7 with career wins over Rafael Nadal and Novak Djokovic.
"I knew I had to work really hard to pass through Alexis today, so I tried my best no matter what the score was in the match and I was pretty lucky to win," added Verdasco, clearly impressed by Galarneau, who's 15 years his junior. "(He) was pretty impressive, even if he didn't win and I think (Canada) has a good player in the future (in Galarneau)."
Verdasco faces third seed Constant Lestienne of France in Friday's quarterfinal round, and joining him in the quarters are fourth seed and wild card Mikael Ymer of Sweden, and France's Ugo Humbert. Ymer and Humbert will face each other on Friday for a spot in Saturday's semifinals.
Friday's evening feature matchup is a quarterfinal showdown between Canada's Vasek Pospisil and former World No. 6 Gilles Simon of France. The other men's singles quarterfinal has 2019 Odlum Brown VanOpen champion and No. 6 seed Ricardas Berankis of Lithuania against third seed Arthur Rinderknech of France.
On the women's side, the quarterfinals are set with top seed Madison Brengle up against fellow American Emma Navarro. Second seed Lucia Bronzetti of Italy faces Andorra's Victoria Jimenez Kasintseva while fifth seed Rebecca Peterson is up against Aussie Maddison Inglis, and Valentini Grammatikopoulou of Greece meets Chloe Paquet of France.
Friday's matches at the Odlum Brown VanOpen start at 11 am at Hollyburn Country Club. In addition to the men's singles quarterfinals, the schedule also includes women's singles quarterfinals and the semifinals of men's and women's doubles.
Photo credit: Bo Mon Kwan