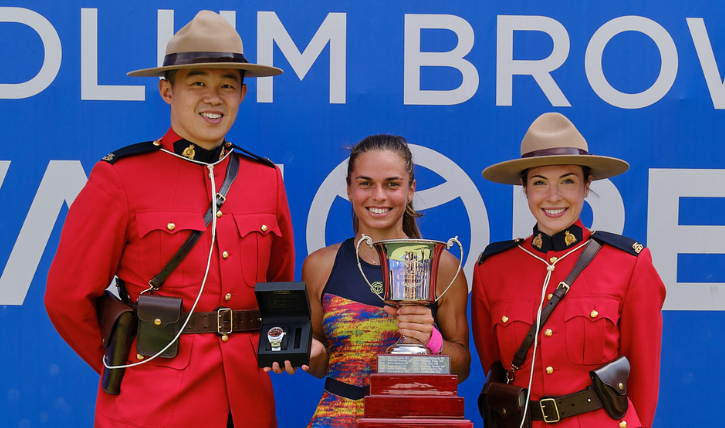 Grammatikopoulou crowned 2022 Odlum Brown VanOpen women's singles champion
Valentini Grammatikopoulou of Greece made history in more ways than one on Sunday at the $115,000 USD Odlum Brown VanOpen, a WTA 125 event, at West Vancouver's Hollyburn Country Club.
Not only is the 25-year-old the first player to win the tournament as a WTA 125 level event, which she did with a 6-2, 6-4 victory over second seed Lucia Bronzetti of Italy, but Grammatikopoulou is also the first woman from the qualifying round to make it all the way to hoisting the trophy as the women's singles champion.
In addition, it's the first WTA title win of her career. "It feels very special because I came without a coach and I had a lot of support from my friends here. I enjoyed Vancouver so much that in the end, I was really relaxed playing tennis," said Grammatikopoulou. "This year (has been) really tough, I had a lot of anxiety and depression because when you don't have results, it really affects your life and on the court as well."
Grammatikopoulou had a smile plastered to her face all week and it earned her plenty of support from the Vancouver crowd – win or lose. On Sunday, it ended up being the key to her victory. "Keep smiling, keep just playing tennis, the results don't really matter. So many people came to support me, so I really enjoyed it. In the end, they didn't care if I won or lost."
The fact that the Odlum Brown VanOpen is a combined WTA 125 and ATP Challenger Tour event supplied Grammatikopoulou with the opportunity to have a brush with one of her tennis heroes and inspire her to the biggest win of her career.
"In the second match of qualifying, one of my favourite players came to support me," Grammatikopoulou explained. "I was totally in seventh heaven because he is my favourite player of all time – Gilles Simon – I am so in love with him! I was very, very happy that he came to watch – maybe he gave me some extra energy when I played."