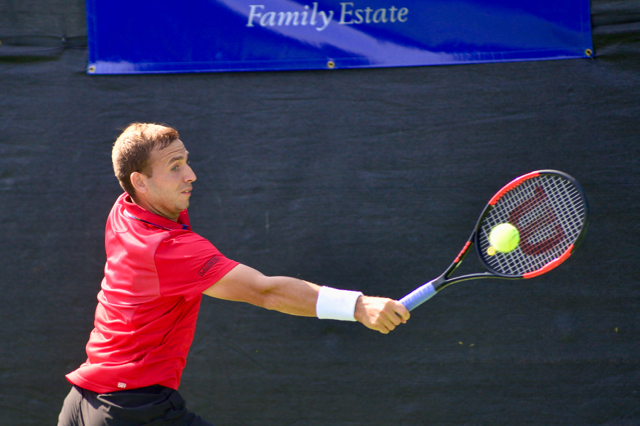 Great Britain's Daniel Evans Knocks Out Vancouver's Vasek Pospisil at Odlum Brown VanOpen
When Vasek Pospisil and Daniel Evans met five years ago at the Odlum Brown VanOpen, it was in the championship final and served up a very entertaining three-set match that could have gone either way. On Semifinal Saturday at this year's tournament, the storyline was very similar in the fact that it involved the same two players and a hard fought three-set victory. The difference in 2018 is that it is Evans prevailing over hometown favourite Pospisil 3-6, 7-5, 6-2.
"It was a great match, I think we both played really good. The crowd was very loud, just like last time, and it makes the match way better to play in. I really enjoyed it. Win or lose, it's fun, last time I played here I lost, I still enjoyed it. It was great fun again today," explained Evans.
Evans, a 28-year-old from Birmingham, England, is on the comeback trail after wrapping up a 12-month suspension earlier this year. If one were to only look at the rankings, Pospisil vs. Evans would appear to be a mismatch, but the fact is that Evans was ranked World No. 41 just a year and a half ago. He'll face fourth seed Jason Kubler in Sunday's final after the Aussie knocked out France's Gregoire Barrere with 4-6, 7-6(8), 6-2 victory. Kubler, currently ranked World No. 109, and Evans have never met in tournament play.
In women's semifinal action on Saturday, former World No. 30, Misaki Doi of Japan took out fellow qualifier Martina Trevisan in straight sets, 6-4, 7-5. Doi will meet Great Britain's Heather Watson for the women's singles championship. Watson, who is a former British No. 1, took out Japan's Nao Hibino with relative ease, winning 6-2, 6-2.
In women's doubles, Desirae Krawczyk of the United States and Giuliana Olmos of Mexico found themselves playing for a championship at the Odlum Brown VanOpen for the second straight year. They were runners-up in 2017, but the result this year was different, with the two winning the title after defeating Kateryna Kozlova and Arantxa Rus 6-2, 7-5. Krawczyk and Olmos were seeded second in women's doubles heading into the tournament.
The 2018 Odlum Brown VanOpen concludes on Sunday, August 19 at 12 pm. The day features Men's and Women's Singles Finals along with the Men's Doubles Final.
Photo credit: Bo Mon Kwan