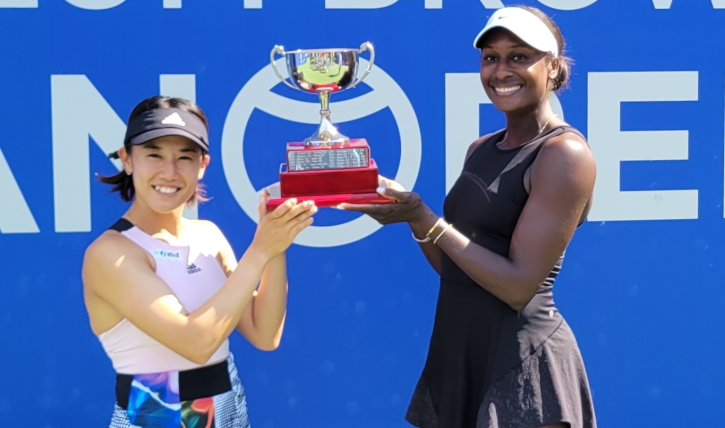 Kato and Muhammad win women's doubles title at the 2022 Odlum Brown VanOpen
News Aug 20, 2022
Japan's Miyu Kato is a back-to-back women's doubles champion at the Odlum Brown VanOpen after claiming the title on Saturday alongside partner Asia Muhammad of the United States with a 6-3, 7-5 win over Timea Babos of Hungary and American Angela Kulikov.
"I'm really excited (to win), I had so much fun (partnering with Miyu). That's a bonus when you can play with someone and really enjoy your time on the court while doing so," said Muhammad, who also won doubles in Vancouver in 2014. "Today was tough, like really tough. In the second set, we were up 4-2, and then we were down 5-4 but we kept a good attitude and I'm really happy we got it back and won in two sets."
Heading into the WTA 125 event, Kato and Muhammad was the No. 1 seeded team while Babos and Kulikov were seeded fourth.
"I am very happy to play with Asia. Timea and Angela played so well and we just tried to be aggressive," added Kato.
In 2019, Kato won the Odlum Brown VanOpen women's doubles crown partnering with her countrywoman Nao Hibino, while Muhammad is also now a two-time women's doubles champion in Vancouver after winning in 2014 alongside fellow American Maria Sanchez.
Kato and Muhammad now join Amanda Augustus of the United States as the only women's players to win doubles twice at the Odlum Brown VanOpen.