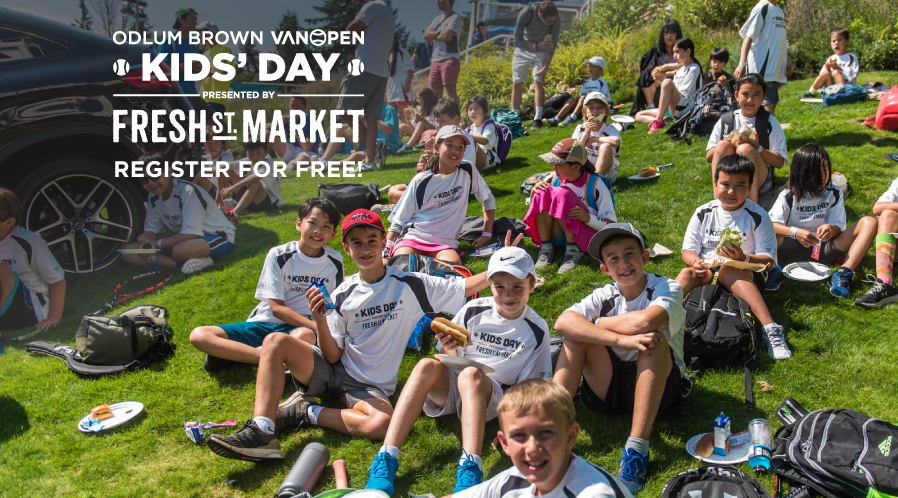 Kids' Day Presented by Fresh St. Market: SIGN-UP IS OPEN!
News Jul 13, 2022
2022 Odlum Brown VanOpen Kids' Day presented by Fresh St. Market
Calling all kids aged 6-12!
Join us for tennis activities, fun and prizes, followed by an afternoon BBQ.
Wednesday, August 17th, 2022 from 10:30 am – 12:30 pm at the Hollyburn Country Club Tennis Centre.
SPACE IS LIMITED! Sign up your child here, or email us today at kidsday@vanopen.com.
Participants must bring their own tennis racquets. If your child does not have a racquet please let us know so we can ensure we have one for them to borrow.
Pre-registration is required. Please enter all the information requested on the form, and you will receive a confirmation email once registered. If you do not receive a confirmation email, please let us know!
Have questions? Send us an email at kidsday@vanopen.com.
KIDS' DAY BONUS!
Tournament admission for kids aged 12 and under is free until 4:00 pm on August 17th, 2022.
*Parents can enter the Vendor Village without an event wristband but will need to purchase a wristband to watch tennis.*
2022 KIDS' DAY POSTER – CLICK HERE TO CHECK IT OUT.