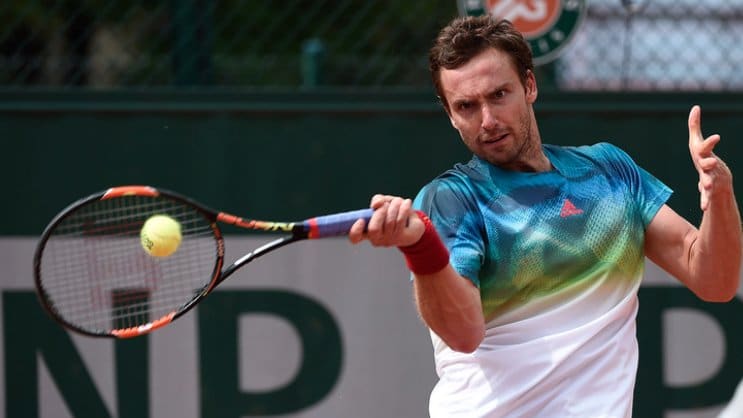 Local Favourites, Rising Canadian Stars, and Former World No. 10 Added to Men's Main Draw at Odlum Brown VanOpen
Organizers of the Odlum Brown VanOpen are pleased to announce that former World No. 10 Ernests Gulbis of Latvia is among the five players who have been awarded wild cards into the men's main draw for this year's tournament August 12 – 18.
In addition to Gulbis, North Vancouver's Filip Peliwo and Vancouver's Benjamin Sigouin return to the courts at Hollyburn Country Club this year. Joining them are two of Canada's top up-and-coming men's players – 20-year-old Alexis Galarneau and 17-year-old Liam Draxl.
"We are thrilled with the addition of these players to our tournament. It will be great to see Ernests as well as popular locals like Filip and Benjamin back on the courts at Hollyburn. We're looking forward to seeing how Alexis and Liam do in their first appearances at our tournament," said Tournament Director Rik de Voest. "For young Canadian players to play on home soil at events like the Odlum Brown VanOpen is an outstanding way to help them develop."
Gulbis has long been one of the most quotable players in the ATP. The 30-year-old has career wins over former World No. 1s Novak Djokovic, Roger Federer and Andy Murray. He has posted 19 career wins against players in the Top 10 of the ATP Rankings, with two coming just last year. Gulbis also holds six career ATP World Tour titles and reached the semifinals of the 2014 French Open. He made it to the fourth round at Wimbledon last year and Roland Garros in 2016 as well.
Peliwo is the first Canadian male and second Canadian ever to win a Grand Slam in singles with his 2012 Junior Wimbledon win. That same year, he claimed the Junior US Open title and made his first appearance at the Odlum Brown VanOpen at age 18. Also in 2012, Peliwo became the first Canadian player to be named ITF Junior Boys' World Champion. In November 2017, the 25-year-old won his first ATP Challenger title, defeating Denis Kudla at a 75K event in Tennessee.
Sigouin, who was born in Vancouver, is a student in the Sports Administration program at the University of North Carolina. The 20-year-old finished the year at No. 20 in the Intercollegiate Tennis Association's final rankings, earning All-America honours in men's singles. Sigouin reached the Round of 16 at this year's NCAA Championships this past May at the USTA National Campus in Florida and was ranked as high as Junior World No. 4 in 2017.
Another outstanding NCAA player, Galarneau is a senior at North Carolina State University. The Laval, Quebec native was named to the All-ACC Academic Team this past June for the second straight year and won two rounds at the ATP Challenger in Gatineau last month. The 20-year-old was also a member of the First Team All-ACC for the second straight season and named the 2019 Intercollegiate Tennis Association Carolina Region Player to Watch.
Draxl, from Newmarket, Ontario, has had most of his success this year in doubles. Draxl and partner Nicaise Muamba upset the second seeds Adil Shamasdin and Hunter Reese at the Granby Challenger last month to make it to the semifinals. Draxl is currently the No. 1 ranked under-18 player in Canada and made his Junior Grand Slam debut earlier this year at the Australian Open. He is committed to attend the University of Kentucky this fall.
Tickets for this year's tournament are available online at https://vanopen.com