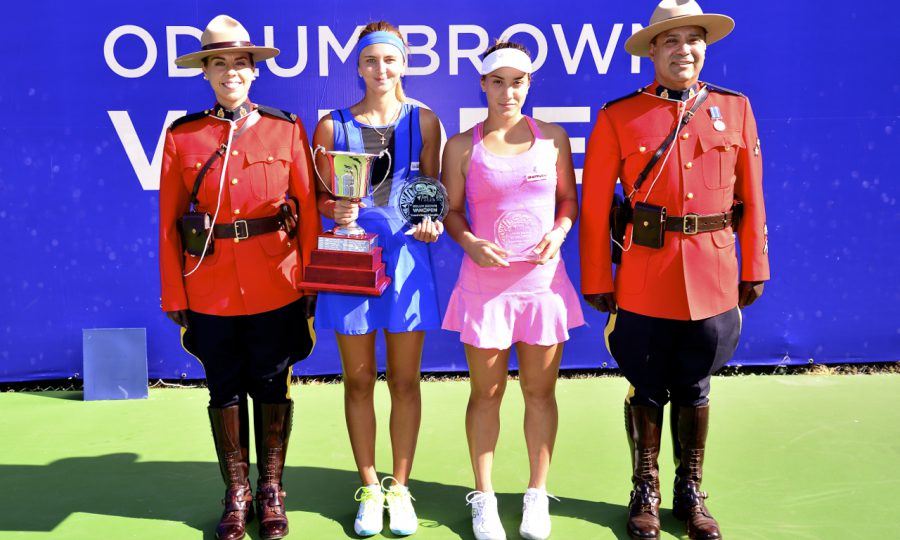 Maryna Zanevska wins 2017 Odlum Brown VanOpen Women's Singles Championship
Maryna Zanevska's official WTA bio lists her favourite cites as New York, Barcelona, her birthplace of Odessa, Ukraine – and Vancouver. But after Sunday's final at the Odlum Brown VanOpen, Vancouver might just be her most favourite place. The 23-year-old beat eighth seed Danka Kovinic of Montenegro 5-7, 6-1, 6-3 to add her name to the list of champions that includes Maria Sharapova, Johanna Konta, Aleksandra Wozniak and more.
"I'm super happy right now, if someone had told me before the tournament that I was going to win it, I would have said, 'That's a good joke!'" said Zanevska, who's ranked World No. 128. The Odlum Brown VanOpen is her first singles title win since the $50,000 ITF Joue-Les-Tours event last October.
"Thank you to the people who make this tournament possible, all the sponsors, it's a really great atmosphere here to play. It's always more fun to play when such a big crowd is cheering for you. I really hope I can come back again next year because it's really an amazing place," said Zanevska, who won the Odlum Brown VanOpen Women's Doubles title in 2013 along side Canada's Sharon Fichman.
For the 22-year-old Kovinic, it's her third final appearance of the summer after finishing runner-up at a $50,000 event in Barcelona in June and a $100,000 event in Budapest in July.
Photo credit: Bo Mon Kwan