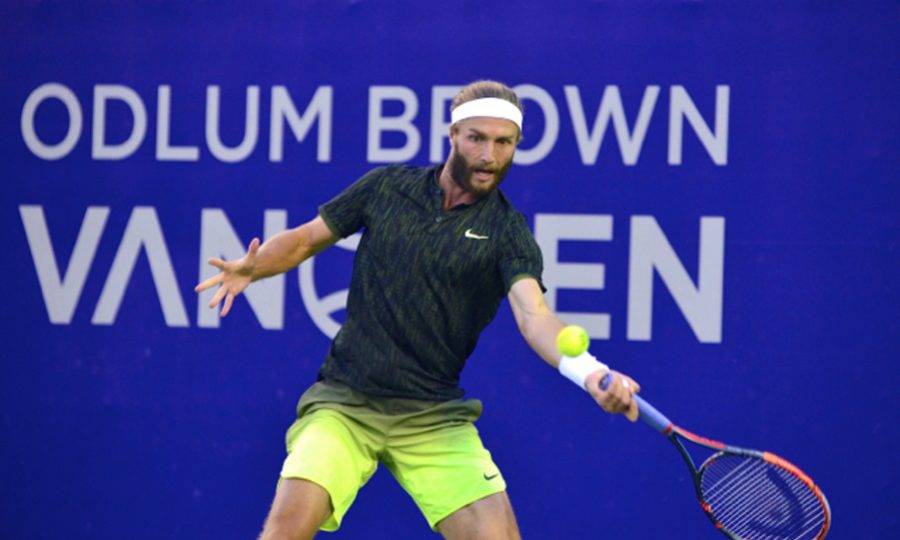 Great Britain's Liam Broady Upsets Four Time Odlum Brown VanOpen Champion Dudi Sela
Richmond Hill, Ontario's Carol Zhao Advances to Second Round of Women's Singles
Dudi Sela won't repeat as Odlum Brown VanOpen men's champion. The 2015 champion at Hollyburn double faulted five times as Great Britain's Liam Broady capitalized to win 7-6(2), 7-6(10) and advance to the quarterfinals. Sela was also looking for a fifth title overall at the Odlum Brown VanOpen, his overall record at the tournament falls to 24-2 during his career.
"It was a great match, the atmosphere was fantastic, and I know Dudi is a fantastic player. I wanted to do myself proud and play as well as I could play. I was incredibly nervous at the end and I think it made it more exciting and all the more pleasant when I finally won the last point," said Broady.
For the 23-year-old Broady, getting a win over a player ranked 186 spots higher than him stands as a big boost of confidence.
"The biggest thing for me is to prove that I can beat these guys. It's a massive pleasure and a relief to get a win against a guy who I've respected for so long and seen play such great tennis over the years," he explained.
Joining Broady in the quarterfinals are Joris De Loore of Belgium, qualifier Lloyd Harris of South Africa, and Italian Stefano Napolitano. De Loore and Harris both knocked out Next Gen ATP players Quentin Halys of France and Sebastian Ofner of Austria, respectively.
Carol Zhao is the lone Canadian woman remaining in the main singles draw after she topped 2011 Odlum Brown VanOpen champion and countrywoman Aleksandra Wozniak in a grueling 2-6, 6-4, 7-5 match on Wednesday at the Hollyburn Country Club.
"It's always great to pull out the close ones. At the end there, we were playing at the same level, so it's all about who can hang in there longer and a bit of luck as well, so I'm glad it went over to my side today," the 22-year-old explained. "The energy from the crowd was great, I always love coming to Vancouver, the fans here are very passionate about tennis and it's a lot of fun."
Zhao has success playing on home soil, with three of her five ITF doubles wins coming in Canadian tournaments. She'll play former World No. 12 Yanina Wickmayer in the second round on Thursday.
The other two Canadian women's players in the main draw lost in tight matches as well, with each going the three set distance. 17-year-old Bianca Andreescu of Thornhill, Ontario fell 2-6, 6-2, 6-4 to eighth seed Danka Kovinic of Montenegro. Andreescu was recently voted WTA Breakthrough of the Month for July 2017. Meanwhile, wild card Katherine Sebov of Toronto lost 6-7(5), 6-4, 7-5 to Italian Jasmine Paolini.
Matches continue on Thursday, August 17 at 10 am, including Second Round Men's and Women's Singles along with Men's and Women's Doubles quarterfinals. Tickets to the Odlum Brown VanOpen are on sale now, starting as low as $30.
Photo credit: Bo Mon Kwan