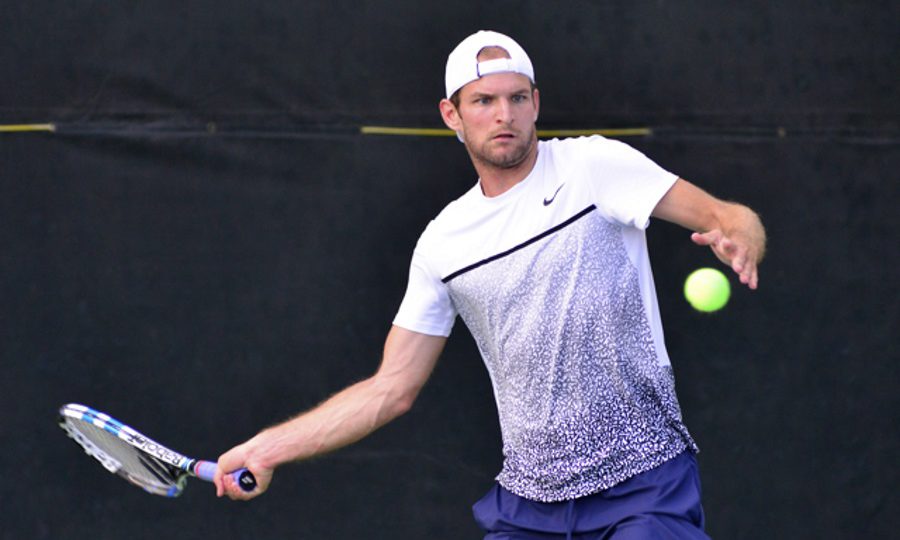 North Vancouver's Philip Bester Plays Final Career Singles Match at Odlum Brown VanOpen
Women's Singles Qualifying Comes to an End with Four Advancing to the Main Draw
West Vancouver, BC – From playing on the courts at Hollyburn at seven years old to being the featured match on Tuesday night at the Odlum Brown VanOpen, things have come full circle for North Vancouver's Philip Bester. The 28-year-old announced last month that he'll retire after the 2017 tournament and he lost his first round singles match against Belgian Ruben Bemelmans on Tuesday night to close the book on his career as a pro tennis player.
"I wanted to go out on a high, I wasn't hoping to just play one more match here, and so I was going to leave everything out on the court today and just fight and enjoy every single moment," said Bester. "I'm happy with how I played, Ruben was a tough opponent and now it's onto retirement."
Although Bester has played his final singles match, he is still alive in doubles as he and partner Marius Copil of Romania were victorious in the opening round on Monday. He emphasized how much it means to him to play his final pro matches at the Hollyburn Country Club.
"It's extra special, I picked this tournament as my spot because I wanted to be surrounded by my friends and my family, and at the end of the day look at my whole career as a celebration. It hasn't quite sunk in that it's the end of my singles career, but I look forward to playing here again on Thursday in doubles," he added.
On the women's side, four players punched their tickets to the main draw with wins on Tuesday. Ysaline Bonaventure of Belgium upset top qualifying seed and Russian Elizavita Kulichkova 6-1, 6-7(3). Aussie Priscilla Hon also took out a seeded qualifying round player as she knocked off fourth seed Valentini Grammatikopoulou of Greece 6-2, 7-6(7). Japan's Eri Hozumi beat compatriot and doubles partner Miyu Kato 7-5, 6-4 while sixth seed Silvia Soler-Espinosa of Spain took out third seed and Turkey's Basak Eraydin 6-3, 6-1.
Matches continue on Wednesday, August 16 at 10 am, including Men's Singles Main Draw Second Round, Men's Doubles Main Draw First Round, Women's Singles Main Draw First Round and Women's Doubles Main Draw First Round. Tickets to the Odlum Brown VanOpen are on sale now, starting as low as $30.
Photo credit: Bo Mon Kwan