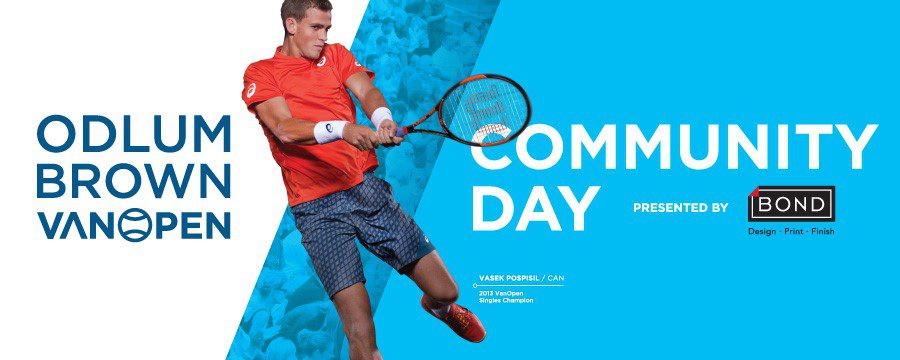 Odlum Brown VanOpen Announces first annual Community Day presented by BOND
Events Press Releases Jun 12, 2017
​Initiative ahead of 2017 tournament to support youth programs in the Lower Mainland
Vancouver, BC – Organizers of the Odlum Brown VanOpen are pleased to announce the tournament's first annual Community Day presented by BOND Reproductions. The special event is set for Saturday, June 17 at the Hollyburn Country Club.
The day sees youth from Tennis BC's Girls in Action outreach program and CLICK (Contributing to Lives of Inner City Kids) participate in a day of tennis provided by Hollyburn and Tennis Canada coaches, along with Tournament Director Rik de Voest.
"We are thrilled to work with Girls in Action and CLICK. Both of these programs support youth in our communities to help them overcome adversity and achieve their potential," said de Voest. "It's our belief that every child deserves the opportunity to explore, learn, play and potentially develop a lifelong interest in sports, either competitively or recreationally."
Each participant will enjoy a barbecue lunch provided by Fresh St. Market and receive a t-shirt, tennis racket and tennis balls.
Girls in Action works with 150 girls from across the province to engage them in tennis while also increasing their social and emotional resiliency.
CLICK is a community-based charitable foundation which focuses on raising funds for community programs and services that support inner city children and youth in Vancouver. The organization helps them develop critical skills and provides access to activities, food programs, out-of-school care, and literacy, sports and recreation, and arts and culture programming.
Media Contact:
Odlum Brown VanOpen: Brian Wiebe (media@vanopen.com – 604-916-8448)
About the Odlum Brown VanOpen:
The Odlum Brown VanOpen is Western Canada's largest and most celebrated tennis event. It offers an equal balance of $200,000 USD in prize money for men and women, and provides players the opportunity to gain valuable world-ranking points on both the ATP and WTA Tours. It annually also attracts 140 international and professional players from over 45 countries. Eugenie Bouchard, Milos Raonic, Maria Sharapova, Johanna Konta, Andy Murray, Marion Bartoli, Vasek Pospisil, and Karolina Pliskova are among today's top stars who began their careers at the Odlum Brown VanOpen.