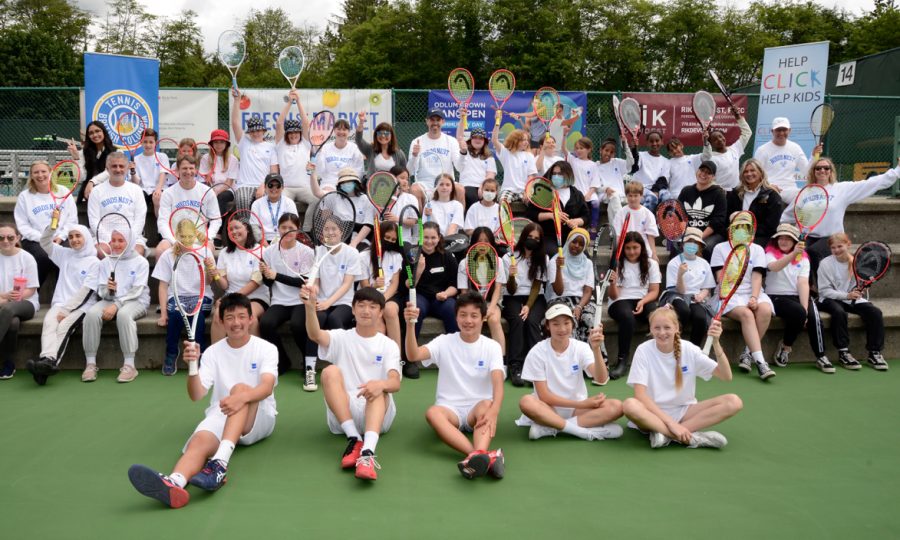 Odlum Brown VanOpen Community Day presented by Birds Nest Properties
Celebrating four years of helping youth achieve their potential
A large group of young people from Tennis BC's Girls in Action outreach program and CLICK: Contributing to Lives of Inner City Kids took to the courts at Hollyburn Country Club on Saturday as part of the fourth annual Odlum Brown VanOpen Community Day presented by Birds Nest Properties.
"It is fantastic to have our first Community Day since 2019 after being impacted by the pandemic for the past two years. There's so much joy in seeing the positive impact on the youth who take part," said Odlum Brown VanOpen Chair Carlota Lee. "A number of these kids face hurdles every day and to help them even a little bit is a proud feeling."
The fun-filled event saw youth take part in a morning of tennis provided by Hollyburn Country Club tennis coaches and Odlum Brown VanOpen Tournament Director and former ATP Tour pro Rik de Voest.
"When these young people have their confidence built up, and the guidance to reach for their dreams, they can achieve anything. We are thrilled to be part of Odlum Brown VanOpen Community Day and play a role in helping these youth on the right path," said Jonathan Low, Managing Broker of Birds Nest Properties, which is the presenting partner of the Odlum Brown VanOpen Community Day. "Tennis BC Girls in Action and CLICK presenting these kids with opportunities they might not be able to experience otherwise is very commendable."
In addition to having a lot of fun on the tennis courts, attending youth also heard Tennis Canada Head of High Performance for Western Canada Oded Jacob, National junior champions Joyce Geng, Gary Jiang, and Owen Nguyen, and other High Performance program players Barbora Bulinova and Daniel Dong each share stories of how to overcome adversity, set and achieve goals, and make dreams become reality.
"This community day of tennis instruction is a wonderful opportunity to offer a new experience to these students. The CLICK team is grateful to the Odlum Brown VanOpen, Birds Nest Properties, and other supporting partners for inviting us to take part," said CLICK President Brenda Penton. "With one in five of Vancouver's children living in poverty, caring community partners are critical to CLICK's efforts to offer these kids opportunities for a successful future."
"Odlum Brown VanOpen Community Day has become a much-anticipated event for the Girls in Action program.  We are so grateful for the continued support from the Odlum Brown VanOpen to keep programs like the Girls in Action going," added Tennis BC spokesperson Jeannie Rohr. "Participation in sport is a protective factor and the more opportunities for children to participate, the more likely they will make better choices in life."
The Odlum Brown VanOpen would like to thank Birds Nest Properties for being Community Day presenting partner as well as the following supporting partners for their contributions: T-shirt Printing Company, which provided shirts for everyone, Fresh St. Market for the BBQ lunch, HEAD for supplying tennis rackets, and Hollyburn Country Club for hosting the event.
All the youth went home with prizes donated from: Hollyburn Country Club Sports Boutique, Babolat, London Drugs, Superstore, A&W, Kidsbooks, F45 Londsdale, Supernova Salon
(Photo credit: Bo Mon Kwan)