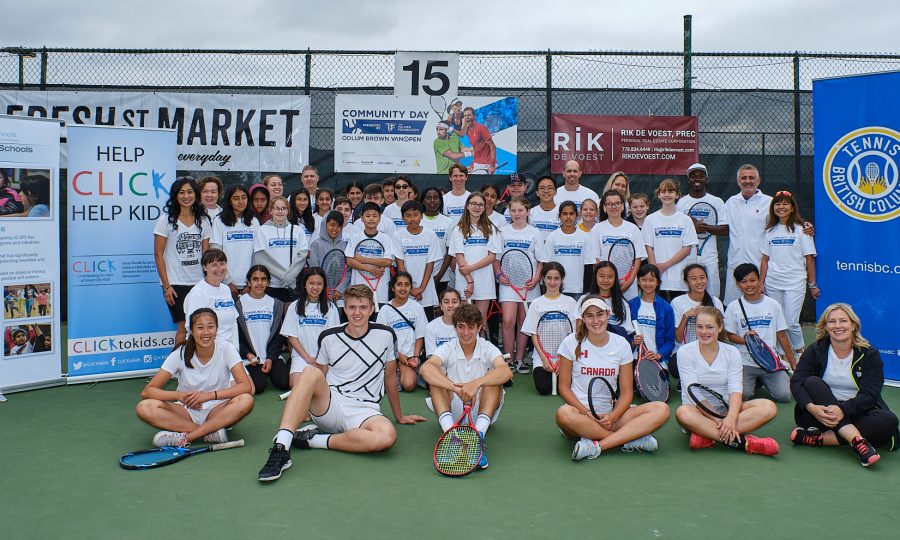 Odlum Brown VanOpen Community Day presented by The Fulmer Foundation Celebrates Three Years of Helping Youth Achieve Their Potential
A large group of young people from Tennis BC's Girls in Action outreach program and CLICK: Contributing to Lives of Inner City Kids took to the courts at Hollyburn Country Club on Saturday as part of the 3rd Annual Odlum Brown VanOpen Community Day presented by The Fulmer Foundation.
"As Community Day continues to grow, the best outcome is seeing the positive impact on the youth who take part," said Odlum Brown VanOpen Chair Carlota Lee. "So many of the kids face hurdles in their everyday lives and if we can help them even a little bit on their way, it's a proud feeling."
The fun-filled event saw youth participate in a morning of tennis provided by coaches from Tennis Canada and Hollyburn Country Club.
"The work of Tennis BC Girls in Action and CLICK to present young people with opportunities they may not otherwise be able to experience is truly admirable," said Yuri Fulmer, Chairman at The Fulmer Foundation, which is the presenting partner of the Odlum Brown VanOpen Community Day. "When youth have the confidence and guidance to achieve their dreams, they can accomplish anything. The Odlum Brown VanOpen Community Day helps young people on the right path toward reaching their potential."
In addition to having a lot of fun on the tennis courts, the youth in attendance also heard Tennis Canada Head of High Performance for Western Canada Oded Jacob and players from the High Performance program share stories of how to overcome adversity, set and achieve goals, and make dreams become reality.
"The CLICK team is deeply grateful to the Odlum Brown VanOpen, the Fulmer Foundation and all the supporting partners for organizing such an outstanding event," said CLICK President Jaclyn Tsang.  "With one in five kids living in poverty, the importance of such caring community partners is critical to CLICK's efforts to give these kids a shot at success."
Both Tennis BC and CLICK have directly seen what a difference events like the Odlum Brown VanOpen can make in the kids' lives who attend.
"We are so grateful for the support from the Odlum Brown VanOpen to keep programs like the Girls in Action going," added Tennis BC spokesperson Jeannie Rohr. "This program has given girls an opportunity to play a sport that they may not have a chance to experience and build confidence and self-esteem to be brave and overcome adversity."
A huge thank you to The Fulmer Foundation and our supporters HEAD, T-shirt Printing Company, Ace Athletics, Fresh St. Market, Rik de Voest and Alex Korch and all the coaches at Hollyburn Country Club.  The BC National Junior Training Program Head National Coach Oded Jacob brought out the following high performance youth who inspired the kids attending Community Day:
Stewart Aronson, 14, Vancouver
Danielle Tuhten, 15, Coquitlam
Chloe Yoo, 16, Langley
Sasha Vagramov, 17, Port Moody
Raul Dobai, 18, Abbotsford
Prizes for the youth were donated by Hollyburn Country Club Sports Boutique, Babolat, Rackets & Runners and Toy Jungle, Park Royal.  Thank you!