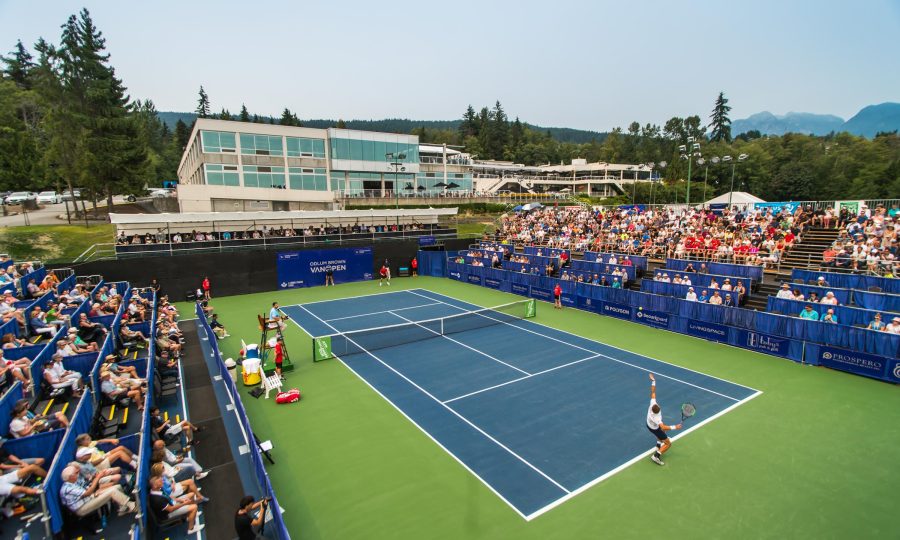 Odlum Brown VanOpen returns bigger than ever in 2022
Organizers are pleased to announce the promotion of the Odlum Brown VanOpen to a combined ATP Challenger Tour 125 and WTA 125 event and the return of the tournament to Hollyburn Country Club for August 13 – 21, 2022.
"The support of the partners, players, and fans for our tournament has been outstanding over the years and having Odlum Brown back as our title partner this year is an enormous part of that. We are so grateful for their dedication to this event," said Tournament Chair Carlota Lee.
The tournament's return comes after a two-year hiatus due to repercussions caused by the COVID-19 pandemic.
"The Odlum Brown VanOpen is an important event to our city and to the Canadian tennis community," said Odlum Brown President and Chief Executive Officer Debra Doucette. "We are very proud of our long-standing relationship with this high calibre tournament, and are excited to return as title partner."
There's no doubt the Odlum Brown VanOpen continues to make its mark on the ATP and its players, especially after being named ATP Challenger Tournament of the Year in both 2017 and 2018.
"We're delighted to see the Odlum Brown VanOpen step up as a Challenger 125 event this season. Challengers are vital to the success of our sport, offering players a competitive pathway up the ATP Rankings," said ATP Chairman Andrea Gaudenzi. "Staging more top-level Challenger events, also in parallel with the WTA, raises the bar for the entire tennis ecosystem. We would like to recognise the Odlum Brown VanOpen tournament team for their commitment and hard work in making this happen, and wish everyone involved a successful 2022 event."
The Odlum Brown VanOpen features some of the top men's and women's tennis players from around the world and across Canada competing for more than $274,360 USD in prize money.
"The Lower Mainland is a hotbed for tennis and is so deserving of a combined WTA/ATP 125 status for the Odlum Brown VanOpen," mentioned Tennis Canada President and CEO Michael Downey. "It's just great that this perennial ATP challenger tournament of the year, is moving up in the world of pro tennis. I look forward to attending this August".
Current World No. 9 and Canada's own Félix Auger-Aliassime took part in the Odlum Brown VanOpen as an 18-year-old in 2018.
"The Odlum Brown VanOpen has always been a world-class event and this move further strengthens the status of the tournament," said Auger-Aliassime. "Vancouver is a featured location on the ATP Challenger Tour and an important stop in terms of ranking points and prize money for players on the path to the ATP Tour."
In addition to being Odlum Brown VanOpen Tournament Director, Rik de Voest is a six-time singles champion on the ATP Challenger Tour, including in 2006 at Hollyburn Country Club. The former pro is keenly aware of the significance of the tournament becoming an ATP Challenger Tour 125 event.
"The upgraded status of our event confirms the tournament's commitment to grow and offer a world-class experience for the players," exclaims de Voest. "It also further enhances the opportunities for our local Canadians to compete and display their talents on home soil."
2019 US Open women's champion Bianca Andreescu played the Odlum Brown VanOpen as a 17-year-old in 2017. She is currently the second-highest ranked Canadian women's player and a former World No. 4.
"I'm very excited to see the Odlum Brown VanOpen return this year and earn the designation as a WTA 125 event," exclaimed Andreescu. "Another tournament of this calibre in Canada definitely helps increase the profile of women's tennis in our country."
Vancouver's own Rebecca Marino is a former World No. 38 who first played the courts at Hollyburn Country Club as part of the Odlum Brown VanOpen as a 16-year-old in 2006. She most recently played the tournament in 2018 and advanced to the quarterfinals.
"I'm very excited to see the Odlum Brown VanOpen become a WTA 125. This raises the stakes for the tournament on the women's side and will bring in some great WTA players to Vancouver.  It will also provide fantastic opportunities to showcase Canadian talent alongside the best athletes in the world," Marino explained. "Having a strong men's and women's combined event in the city is a fantastic thing for Vancouver tennis fans and I can't wait to compete at my home tournament in August."
The enthusiasm from players like Andreescu and Marino is echoed by WTA Chairman and CEO Steve Simon.
"We are delighted and excited to see the Odlum Brown VanOpen added to the WTA 125 calendar in 2022," said Simon. "Women's professional tennis has a strong history across Canada and the event in Vancouver will offer a wonderful platform for new players and established stars to compete."
The 2019 Odlum Brown VanOpen saw Ricardas Berankis of Lithuania claim the men's singles title while Great Britain's Heather Watson won the women's crown.
"Having the Odlum Brown VanOpen promoted to an ATP Challenger 125 and WTA 125 event is an even greater opportunity for fans to see some of the world's top tennis players in Vancouver," added de Voest. "We are excited to once again present a first-class experience for men on the ATP Challenger Tour and women on the WTA 125 tournament circuit."
In total, more than 13,000 spectators watched more than 130 athletes from 35 countries take to five courts at Hollyburn Country Club in 2019. Complete ticket details for the 2022 Odlum Brown VanOpen will be announced in the spring at vanopen.com.