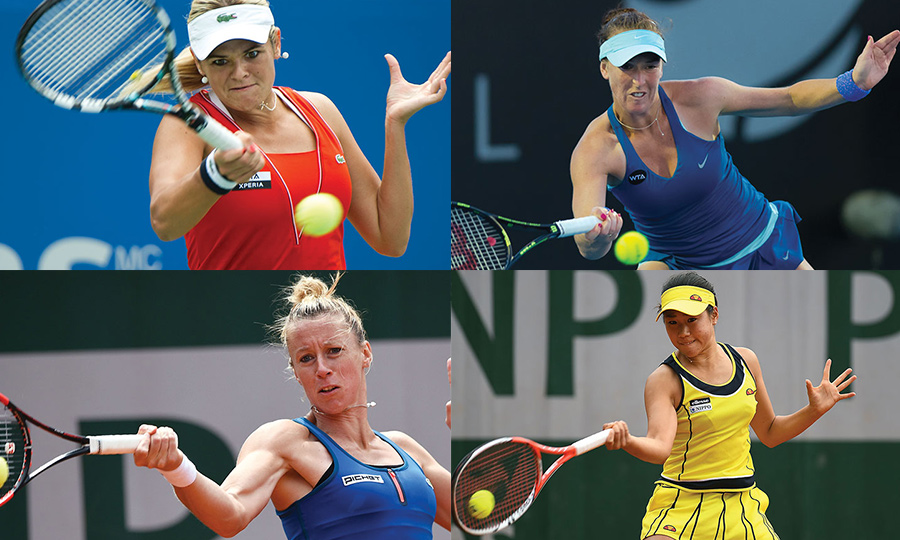 Olympians and Fed Cup Players Included in Women's Field at Odlum Brown VanOpen
News Aug 04, 2017
2011 Odlum Brown VanOpen Champion Aleksandra Wozniak Returns to Hollyburn
Vancouver, BC – Organizers of the Odlum Brown VanOpen are pleased to announce the strongest field of women in the tournament's history, scheduled to compete in the $200,000 USD event from August 12 – 20 at the Hollyburn Country Club in West Vancouver.
"We are ecstatic with the quality of field for the woman's event at the Odlum Brown VanOpen this year. With numerous players with established careers and high profile wins, we are sure to see some fantastic tennis," said Tournament Director Rik de Voest. "The diversity of players from across the globe traveling to Vancouver will add further flavor to our event."
The confirmed field includes three players ranked among the top 100 in the world and one player in Madison Brengle who advanced to the third round at Wimbledon last month.
The players on the list are in addition to rising Canadian tennis stars Francoise Abanda, Bianca Andreescu, Carson Branstine, Charlotte Robillard-Millette, and Katherine Sebov, who last month confirmed their attendance at the tournament.
Another addition is former Odlum Brown VanOpen women's champion Aleksandra Wozniak of Montreal, who returns to Hollyburn for the first time since hoisting the singles trophy in 2011.
American Brengle is ranked No. 72, Japan's Nao Hibino is World No. 92, Pauline Parmentier of France is No. 99, Tunisian Ons Jabeur is ranked at No. 103, Naomi Broady of Great Britain is World No. 107 and American Julia Boserup is ranked No. 112.
A former World No. 21, Wozniak won the ITF $25,000 in Gatineau, Quebec last month for her first title since 2012. The 29-year-old, who represented Canada at the 2012 London Olympics, has reached the third round or better at five Grand Slam tournaments in her career. She has also been named Female Player of the Year by Tennis Canada five times.
Brengle is a former World No. 35, a ranking she reached in May 2015. The 27-year-old has three career wins over former World No. 2 Petra Kvitova and one career win over former World No. 1 Serena Williams, who she upset in the second round at the Auckland Open this past January. She also has ten career ITF singles titles.
Hibino reached her career high of No. 56 in January 2016. The 22-year-old has reached three career WTA Tour finals, winning once. She also won the doubles title in Monterrey earlier this year. Hibino was a member of the Japanese Fed Cup Team last year and represented her country at the 2016 Rio Olympics.
Parmentier has been ranked as high as No. 40 in the world. She has two career WTA Tour victories and appeared in the main draw of 38 Grand Slams. The 31-year-old has played for the French Fed Cup Team since 2010 and also played in the singles and women's doubles events at the 2008 Olympic Games.
A two-time junior French Open finalist, Jabeur won the junior title at Roland Garros in 2011. She earned her first Grand Slam victory in May at the French Open and achieved her first win over a top-10 player in the second round against former World No. 4 Dominika Cibulkova. The 22-year-old has ten career ITF Pro Circuit titles.
Broady is a nine-time winner and nineteen-time finalist on the ITF Pro Circuit in her career. The 27-year-old also has won thirteen ITF doubles titles, including in Slovakia this past May. She's a nine-time Grand Slam Main Draw participant, making it to the Round of 64 twice. Broady advanced to the second round at the Aegon Classic Birmingham in June.
Boserup is a four-time winner on the ITF Pro Circuit Tour and reached the third round of Wimbledon last year. She made it to the second round of the Australian Open earlier this year. The 25-year-old jumped 60 points in the WTA rankings earlier this year after being a quarterfinalist in Monterrey.
"Madison Brengle and Jordan Thompson have wins this year over World No. 1's Serena Williams and Andy Murray respectively. With players like that coming to our tournament, fans will be treated to high caliber tennis not often seen at this level of event," added de Voest.