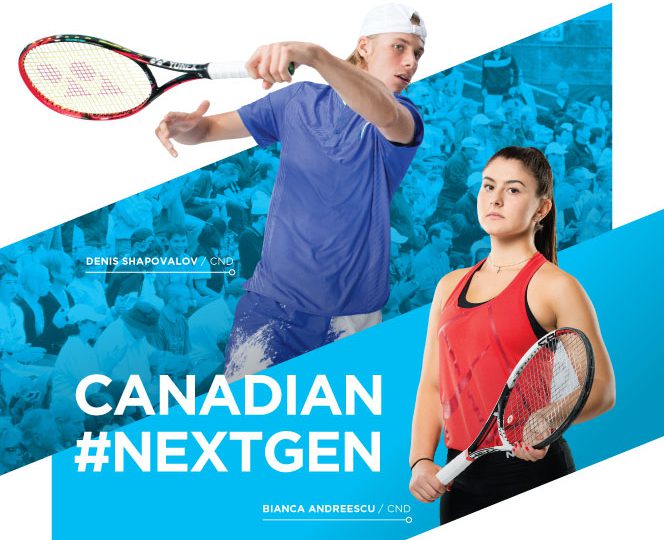 Rising Young Canadian Tennis Stars to Play at Odlum Brown VanOpen
News Jul 20, 2017
Top young Tennis Canada athletes included in tournament's return
Vancouver, BC – Organizers of the Odlum Brown VanOpen are pleased to announce several of Canada's top young tennis players are set to take the courts at the Hollyburn Country Club for the return of the tournament starting August 12. These players look to follow in the footsteps of Milos Raonic, Eugenie Bouchard, Vasek Pospisil, Gabriela Dabrowski, Peter Polansky, and many others as young Canadian players who played at the Odlum Brown VanOpen before moving onto Grand Slam tournaments.
Last summer, Bianca Andreescu captured her first professional title at the Gatineau Challenger, winning both the singles and doubles crowns at just 16-years-old. The former ITF Junior World No. 3 won two straight major titles this year, claiming the Junior Australian Open and Junior French Open doubles championships. The 17-year-old from Mississauga, Ontario has two singles wins on the ITF Circuit this year and three in her career. In June, she qualified for her first Grand Slam as a pro at Wimbledon.
Carson Branstine, a dual citizen of both the U.S. and Canada, decided to make the switch and officially represent Canada this past spring. In January, the 16-year-old Montreal resident clinched her first major junior title at the Australian Open, capturing the junior girls doubles crown alongside Andreescu. At the Junior Aussie Open, Branstine, who is the current ITF Junior World No. 4, also reached the third round in singles. She also won another doubles trophy at Roland Garros with Andreescu this past June.
Charlotte Robillard-Millette is a former ITF Junior World No. 4. In 2015, the 18-year-old from Blainville, Quebec was the first Canadian to qualify for the ITF Juniors Masters in China and won bronze. She earned her first professional doubles title alongside Andreescu at the $25,000 Gatineau Challenger last August. Robillard-Millette is a six-time ITF Circuit doubles finalist, winning twice. In October 2015 at the Challenger Banque Nationale de Saguenay, she defeated former World No. 11 Shahar Pe'er in the second round.
Katherine Sebov had an impressive start to 2017, qualifying and reaching the semifinals at three consecutive ITF events. First was the Dow Tennis Classic in January, where the 18-year-old Toronto native upset former World No. 78 Veronica Cepede Royg in the first round. Then she topped former World No. 19 Varvara Lepchenko in the quarterfinals before falling to 2014 Wimbledon Mixed Doubles quarterfinalist Naomi Broady. Sebov followed up with a similar round of four performance at $25,000 tournaments in Orlando and Rancho Santa Fe.
In July 2016, Richmond Hill, Ontario's Denis Shapovalov won the Junior Wimbledon championship, made his ATP World Tour main draw debut at the Citi Open, and secured his first-ever ATP match victory in the first-round over then-world No. 19 Nick Kyrgios at Rogers Cup. The 17-year-old won the $75,000 Drummondville National Bank Challenger this past March to become the youngest Canadian at the time to win an ATP Challenger title. He also advanced to the second round of the ATP 500 event in Queen's Club, and made his Grand Slam debut at Wimbledon.
Benjamin Sigouin, who was born in Vancouver, but trains in Montreal, reached the quarterfinals at the French Open in his first junior Grand Slam in 2016. He also made it to the junior men's doubles final at the US Open last year. The 18-year-old also won the 2016 Belgian International Junior Championships, a high-level under-18 event, which propelled him to a then career-high ranking of Junior World No. 10. He hit a pinnacle of Junior World No. 4 this past January. Sigouin also earned his first ATP point last year to enter the pro rankings.
"As a past player, I know firsthand the benefits of competing on home soil, with some of my best results coming from local events," said Odlum Brown VanOpen Tournament Director Rik de Voest. "We hope that the next generation of Canadian tennis players can use this event as a stepping stone to achieve great things on the tennis tour."
Corporate box seats for the Odlum Brown VanOpen are now sold out. Remaining single day tickets are available at https://vanopen.com/tickets.