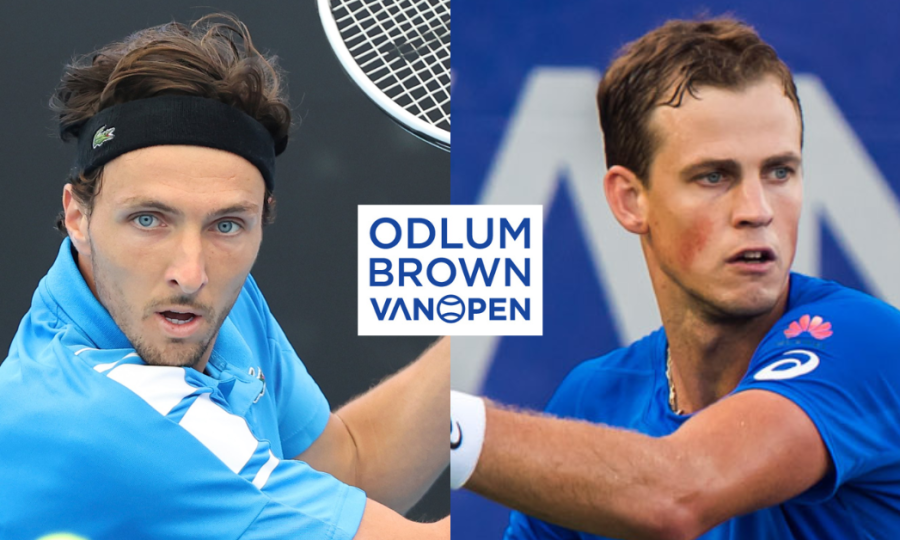 Six Top 100 Players on Odlum Brown VanOpen Men's Main Draw Acceptance List
News Jul 28, 2022
The Odlum Brown VanOpen is pleased to announce the men's official player acceptance list for the $159,360 USD ATP Challenger Tour event August 13 – 21 at Hollyburn Country Club.
The 21-player men's main draw list is among the strongest in the tournament's 18-year history with six top 100 ranked players and another two players on the cusp of moving into the top 100. The players on the list include 2013 Odlum Brown VanOpen men's singles champion and 2014 Wimbledon doubles champion Vasek Pospisil of Canada.
Pospisil is a former World No. 25 who holds four career wins over top-10 opponents, including former World No. 1 and fellow Odlum Brown VanOpen alumnus Andy Murray. The 32-year-old, who was born in Vernon, BC, won Wimbledon doubles in 2014 and has been ranked as high as World No. 4 in doubles. He also reached the quarterfinals in singles at Wimbledon in 2015 and the finals at the 2014 Citi Open in Washington, D.C.
"We are extremely happy with the calibre of the men's field, it's our strongest yet. We have returning past champions, exciting up-and-coming stars of the future, and established players with victories over the world's best, one of which has two wins over Novak Djokovic, all vying for the prestigious title," said Odlum Brown VanOpen Tournament Director Rik de Voest.
"We are anticipating some very intriguing first-round matches that are of the highest quality this year. Tennis fans will be treated to some fantastic matches in every round," de Voest added.
Overall, 16 countries are represented on the initial acceptance list and 14 of the players competed in the main draw at Wimbledon last month.
France's Arthur Rinderknech is the top-ranked player at 60th in the world. Jiri Vesely of the Czech Republic is ranked 66th. Great Britain's Jack Draper is World No. 85, Yoshihito Nishioka is ranked No. 92, Australia's Jordan Thompson is World No. 95, and Marc-Andrea Huesler of Switzerland is 96th overall.
In addition to those six on the acceptance list, 2019 Odlum Brown VanOpen men's singles champion Ricardas Berankis of Lithuania is World No. 102 and France's Constant Lestienne is ranked 105th.
Rinderknech's career-high singles ranking is No. 48. He reached the second round at the US Open last year and the Australian Open this year. The 27-year-old is a five-time singles winner and two-time doubles champion on the ATP Challenger Tour. He played college tennis for four years at Texas A&M University before turning pro in 2018.
Vesely has four career wins over players who have been ranked in the ATP top 10. The 29-year-old Czech reached a career-high No. 35 in April 2015, two years after making his Grand Slam main draw debut at Roland Garros. Vesely holds wins over World No. 1 Novak Djokovic in the second round of the 2016 Monte-Carlo Masters and the quarterfinals at this year's Dubai Tennis Championships.
Draper reached his career high of World No. 85 earlier this week. The 20-year-old reached the second round at Wimbledon last month for his top career Grand Slam singles result. Draper started the year red-hot, with four wins in the first quarter on the ATP Challenger Tour, and is the first player ever to accomplish that feat. He also has a career win over former World No. 8 Diego Schwartzman.
Nishioka is currently the highest-ranked men's player from Japan and the 26-year-old has reached the second round or better at 10 Grand Slams over the last nine years. He broke into the Top 50 with a career-high No. 48 in February 2020. Nishioka's first career ATP Tour win came in 2018 at the ATP Shenzhen Open in China.
Thompson, 28, reached a career-high of World No. 43 in July 2019 and was the men's singles finalist at the 2017 Odlum Brown VanOpen. The Australian has made it to the second round or better in eight career Grand Slam tournaments. Thompson won his 13th career ATP Challenger Tour singles crown last month in Surbiton, England.
Huesler is currently ranked highest in his career at No. 96 and made his Grand Slam main draw debut last month at Wimbledon. Huesler, from Switzerland, is a winner of five career ATP Challenger Tour titles, including a pair in Mexico this past April. He made his ATP Tour main draw singles debut in 2018, earning a first-round win over former World No. 9 Nicolás Almagro.
Tickets for this year's tournament are available online at https://vanopen.com/tickets/.