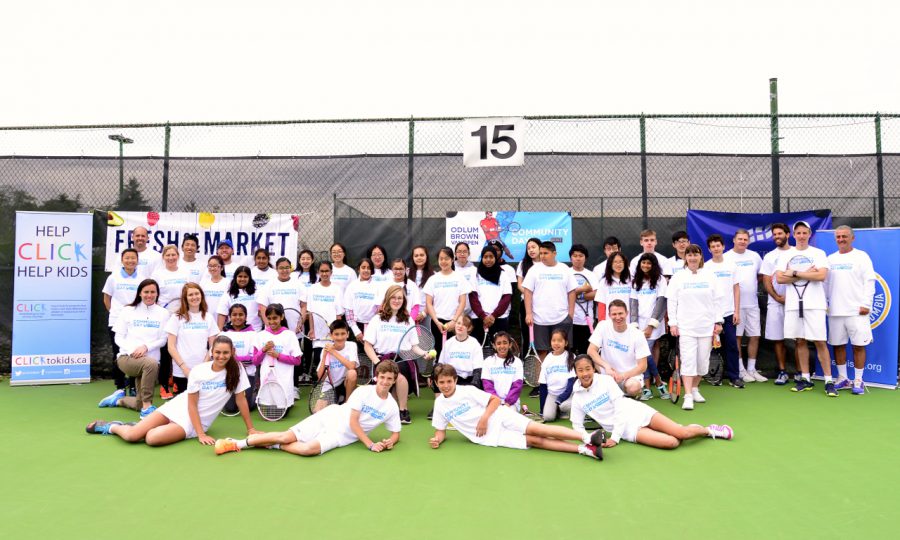 Tennis With a Purpose: Remember to Dream Big
News Jun 19, 2017
The inaugural Odlum Brown VanOpen Community Day presented by BOND  held on Saturday, June 17, 2017 at Hollyburn Country Club was a great success thanks to the generosity of our many partners and supporters.
The event provided youth from Tennis BC's Girls in Action outreach program and CLICK (Contributing to Lives of Inner City Kids) the opportunity to get out on the courts and learn to play tennis. Instruction was provided by Tennis Canada's Oded Jacob, Odlum Brown VanOpen Tournament Director Rik de Voest along with Hollyburn Country Club's Tennis Director Alex Korch and his team of amazing team of coaches Tessa Ainge, Todd Beechinor, Tony Macken, Steve Tseng, Oly O'Shea and Zach Rath.  In addition to the on-court experience, the children heard from several of BC's High Performance athletes who shared their stories about chasing their dreams of being number one in tennis and the obstacles they are overcoming in order to pursue this dream.
"I want to thank our many partners and supporters for helping us make our first Community Day such an amazing event," said Tournament Chair Carlota Lee. "Our goal was to use tennis to inspire these children and send the message that it's important to work hard to achieve our dreams. That message has been heard loud and clear with the generous help of everyone who supported this event."
Participants received free, refurbished rackets, a can of balls, a Community Day t-shirt and a catered lunch.  Special thanks to our Presenting Sponsor BOND Reproduction, Hollyburn Country Club and Fresh St. Market for providing the food for the BBQ.
Oded Jacob (Tennis Canada) with high performance youth, Aron Pilbart, Stewart Aronson, Chloe Yoo, Leena Bennett.