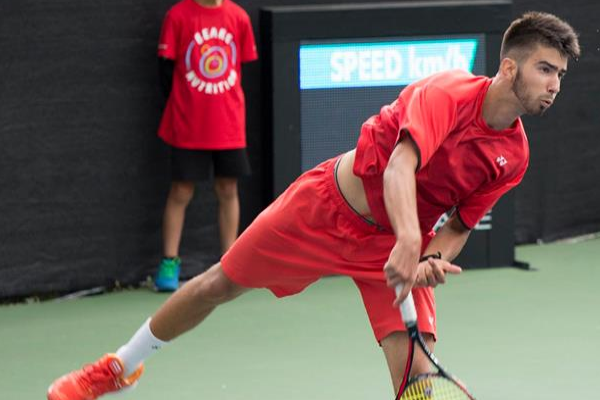 Top BC U18 Player Luka Vukovic Advances to Second Round Qualifying at Odlum Brown VanOpen
Two Canadians were among the winners on Saturday at the 2018 Odlum Brown VanOpen as the tournament kicked off its 16th year at Hollyburn Country Club.
Burnaby, BC's Luka Vukovic, a 17-year-old top junior in the province, edged out fellow local wild card entrant Riaan Du Toit 7-5, 7-6 on Centre Court. In the other all-Canadian tilt, Joshua Peck defeated Jared Maclean 6-3, 6-1 to advance to face the No. 3 seed in qualifying, Vincent Millot of France.
The eighth-seeded men's qualifier, American Marcos Giron, closed out the day's action with a 6-3, 6-3 victory over Australia's Luke Saville. Giron will now take on Mikael Torpegaard of Denmark – after Torpegaard took down France's Fabrice Martin in three sets, 6-4, 3-6, 6-3
Matches continue Sunday, August 12 at 10 am, featuring Men's and Women's Singles Qualifying. Tickets for the Odlum Brown VanOpen are available at https://vanopen.com/tickets.
—-
Odlum Brown VanOpen
A Tennis Canada Event
Saturday, August 11
Hollyburn Country Club
West Vancouver, BC
Purse: $200,000 USD
Surface: Hard-Outdoor
Saturday, August 11 – RESULTS
Men's Singles Qualifying – First Round
Ricardo Rodriguez, Venezula, def. Alexander Day, Canada, 6-3, 6-0,
Mikael Torpegaard, Denmark, def. Fabrice Martin, France, 6-4, 3-6, 6-3,
Marcos Giron (8), United States, def. Luke Saville, Australia 6-3, 6-3,
Borno Gojo, Croatia, def. Takanyi Garanganga 6-3, 2-0 (Ret.),
Aleksandar Vukic, Australia, def. (WC) Jack Davis, Canada, 7-6, 6-1,
(WC) Joshua Peck, Canada, def. (WC) Jared Maclean, Canada, 6-3, 6-1,
Thai-Son Kwiatkowski, United States, def. Henry Craig, United States, 6-4, 6-1,
Jacob Grills, Australia, def. Ruan Roelofse, South Africa, 6-1, 6-2,
(WC) Luka Vukovic, Canada, def. (WC) Riaan Du Toit, Canada, 7-5, 7-6.
Photo credit: Eduardo Villanueva