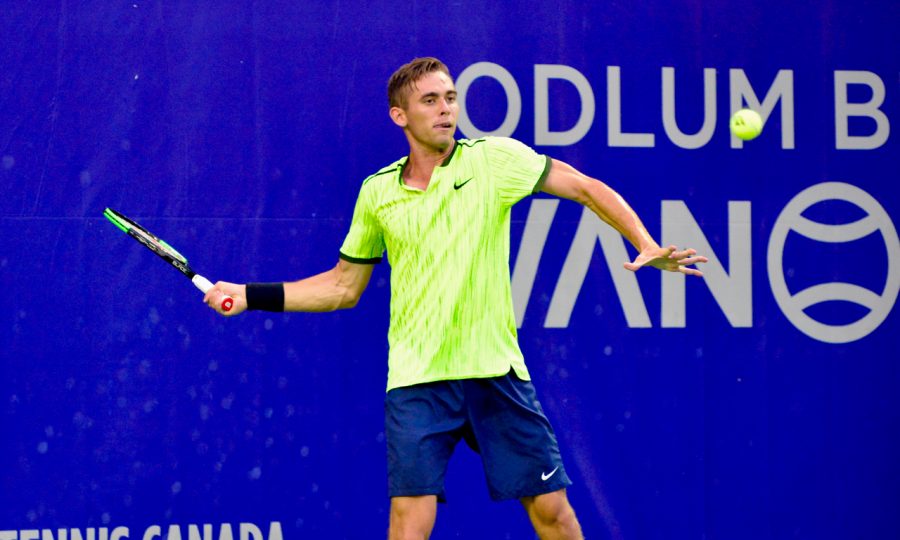 Vancouver's Benjamin Sigouin Punches Ticket to Second Round at the 2019 Odlum Brown VanOpen
Benjamin Sigouin made a trip back to his hometown on Monday night to open the 2019 edition of the Odlum Brown VanOpen, and the former Junior World No. 4 didn't disappoint his local fans as he dominated in a 6-3, 6-1 win over JC Aragone of the United States, who was entered into the singles main draw as an alternate.
Sigouin used a loss against Aragone two weeks ago at the Kentucky Bank Tennis Championships where he was beat soundly as motivation to win this one. "He beat me pretty good, so it felt good to get revenge, I learned from our previous match and tried to take from what didn't work there and utilize it here and it worked."
The 20-year-old, who earned Intercollegiate Tennis Association All-America honours in men's singles earlier this spring for the University of North Carolina Tar Heels, says it is always a special feeling when he takes the court at Hollyburn.
"It means a lot… I've been coming here for a long time. I remember being 10 years old and sitting in the stands just watching people like Baghdatis and Dudi Sela play," he explained. "To see that I'm at that level now and play in the same tournaments as those guys is special, I worked really hard for this."
In total, 32 matches were played on Day One of the Odlum Brown VanOpen, the most in one day in the tournament's history. Organizers also announced that the tournament is sold out for the remaining six days. It's the second straight year that fans have scooped up every available ticket for the event.
The action continues Tuesday, August 13 at 10 am, featuring matches from Men's Singles First and Second Round, Women's Singles First Round, and Men's and Women's Doubles First Round. A full schedule is available here.
Photo credit: Bo Mon Kwan